Marquette track and field competes in California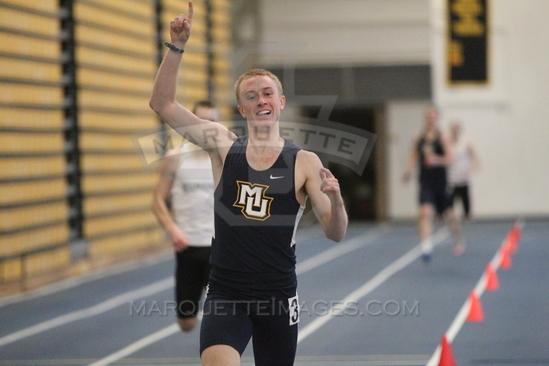 Hang on for a minute...we're trying to find some more stories you might like.
It was an eventful trip to the West Coast for Marquette's track and field teams this past weekend. Over the course of 72 hours – from Friday, April 16 to Sunday, April 18 – Marquette sent competitors to four separate events throughout the state of California.
Cassy Goodrich submitted another standout performance Sunday at the Beach Invitational in Norwalk, California. She ran a 24.36-second 200-meter dash on Saturday, which broke Karen Goodwin's 18-year-old university record. Just a day earlier, Goodrich also recorded a time of 54.84 seconds in the 400-meter run at the Mt. SAC Relays in Walnut, California, which set the Marquette freshman record and made her only the second Marquette woman to break 55 seconds.
As if she hadn't already done enough, Goodrich went on to play a key role in helping the 4×400 relay team capture victory at the Beach Invitational for the second year in a row. The team posted an impressive 3:44.98 time to take home the gold, due in no small part to Goodrich and Anna Strong's runs. Goodrich ran a 53.9 second split, while sophomore Anna Strong edged her out with a slightly faster 53.6-second time in her own leg of the relay.
"The sprint ladies excelled especially," coach Bert Rogers told GoMarquette.com. "Both Cassy's and Anna's splits were really fast — fastest I've ever coached."
There were also some intriguing performances by long-distance runners this past weekend. Junior Kellie Greenwood ran the 5,000-meter event at the Mt. SAC Relays Friday and achieved a time of 16:34.07, which was good enough to set the school record in the event. Brittney Feivor also ran an impressive 10,000-meter event with a time of 34:58.41. That clocks in as the third-fastest 10,000 time in Marquette history as well as the fastest time in the Big East this season. This makes the third consecutive meet where Feivor set a personal record in a distance event.
Some notable results on the men's side include Alec Miller's 3:48.35 time in the 1,500-meter run at the Bryan Clay Invitational in Azusa, California, which is the sixth-fastest 1,500 time in Marquette history. Blake Lawson submitted a personal best in the 5,000-meter run with a time of 15:14.17. And finally, freshman Joshua Word gutted out a personal best time of 11.22 seconds.
"It was an awesome weekend out here in California," Rogers told GoMarquette.com. "We had a lot of great performances. We always expect that we're going to come out here and have solid performances, and this year was no exception."
The teams will return home to familiar Midwestern ground next weekend as they send competitors to both the Benedictine Twilight in Lisle, Illinois, and the Drake Relays in Des Moines, Iowa. The Benedictine Twilight will be Friday while the Drake Relays will be a two-day affair that encompasses Friday and Saturday.