Women's lax slips at Temple, loses 5th straight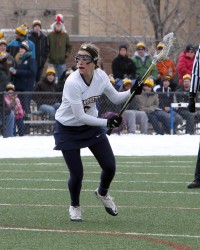 The Marquette women's lacrosse team jumped out to a quick start, but allowed a 7-0 hot streak from Temple and dropped its fifth straight game 11-7.
Junior midfielder Hayley Baas and redshirt junior attack Emily Donovan carried the Golden Eagles in scoring with two goals apiece. Junior attack Claire Costanza tallied a goal and an assist and her two point performance pushed her scoring streak to 19 consecutive games.  The Owls had hat tricks from midfielders Nicole Tiernan and Morgan Glassford, as well as from freshman attack Nicole Barretta to push them to victory.
Marquette (4-10, 0-4) was outshot 23-15 for the game and 17-13 in shots on goal. The Golden Eagles were hurt by 34 fouls on the game.
Marquette looked poised to put the losing streak behind it with two quick goals to open the game. Baas and freshman attack Riley Hill each tallied early scores and the Golden Eagles were up 2-0 just 5:25 into the game. However Temple (9-4, 1-3) responded with a 7-0 run over the next 17 minutes to take a 7-2 lead. Things looked bleak for Marquette, but the team never gave up. Baas ripped home her second of the game with 3:13 to go in the half to cut the Owl lead to 7-3, but Temple still carried the lead and momentum into the half.
Temple doubled up Marquette in shots 14-7 and beat Marquette in draw controls 8-3 through the opening 20. Golden Eagle junior goaltender Sarah Priem stood tall in the face of heavy artillery and made four saves on the 11 shots she faced, allowing Marquette to still hold out hope.
The second half began just as the first half did and the Golden Eagles scored two unanswered to get within two goals. The squads traded goals and Temple led Marquette 8-6 with 12:17 remaining, but the Golden Eagles would never get closer. Temple scored three straight to take an 11-6 edge with 3:24 to go and never looked back. Senior attack Nicole Gleason tucked one behind the goalie to bring Marquette within four, but it was too little, too late for Marquette and Temple took the game 11-7.
The Golden Eagles will try to get their first Big East win of the season Wednesday as they travel to conference newcomer Vanderbilt for a 3 p.m. game in Nashville.