No. 8 Gators chomp women's lacrosse 16-5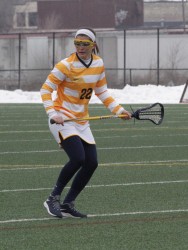 The Marquette women's lacrosse team put in a valiant effort Wednesday, but ultimately could not pull off the upset against the No. 8 Florida Gators in a 16-5 loss. Marquette has now lost four straight and is still in search of its first Big East win of the year.
The Golden Eagles (4-9) were led in scoring with two goals by senior attack Nicole Gleason, who is now riding a five game scoring streak. Gleason's performance tied her for the team lead in goals with junior attack Claire Costanza with 17 on the season.
Marquette also received a goal each from attacks Julianna Shearer and Riley Hill and midfielder Taylor Smith. In net, it was another tough day for junior goaltender Sarah Priem, who allowed 11 goals on 15  shots on net. Backup goalie Emma Salter didn't do much better, surrendering five goals on seven shots after she replaced Priem with 20 minutes to play.
For the Gators (10-4), it was leading scorer Shannon Gilroy who carried Florida to victory with four goals and an assist. The senior midfielder now has 52 goals on the season, good for best in the NCAA and her 70 points this year is also tops in the country. Gilroy was just one of the eight different Gator goalscorers on the day. On the defensive end, Florida was just as good, as junior goalie Mary-Sean Wilcox stopped nine of the 14 on net shots she faced.
The score, though decisive, is not indicative of the effort put forth in this game. The Golden Eagles fought hard for all 60 minutes, but the top-offensive team in the Big East would not be stopped.
Florida opened the scoring just 44 seconds into the game and it looked as if the Gators would open the floodgates early. But the Golden Eagles wouldn't go down easily. Marquette responded with two unanswered goals from Shearer and Smith, taking a 2-1 lead with 27:58 remaining. The Golden Eagles faced a 3-2 deficit shortly there after, but again showed determination and tied the game at three on a rip from Riley Hill at 18:57.
The 3-3 score was as close as Marquette would get though, as the Gators went on a five goal tear to take an 8-3 lead into the half. The break did nothing to slow down the Gator offense as Florida outscored Marquette 8-2 in the second half, ending the game on another 5-0 run.
The Golden Eagles look to end their four game losing streak at Temple (8-4) Saturday at 11 a.m. in Philadelphia.