Student group rallies for allocating funds to students without legal residence in U.S.
Youth Empowered in the Struggle rallied on campus Monday in support of allocating financial resources to students who are not legally living in the U.S.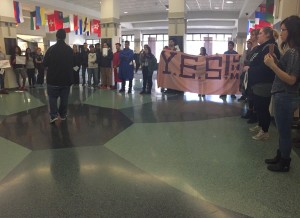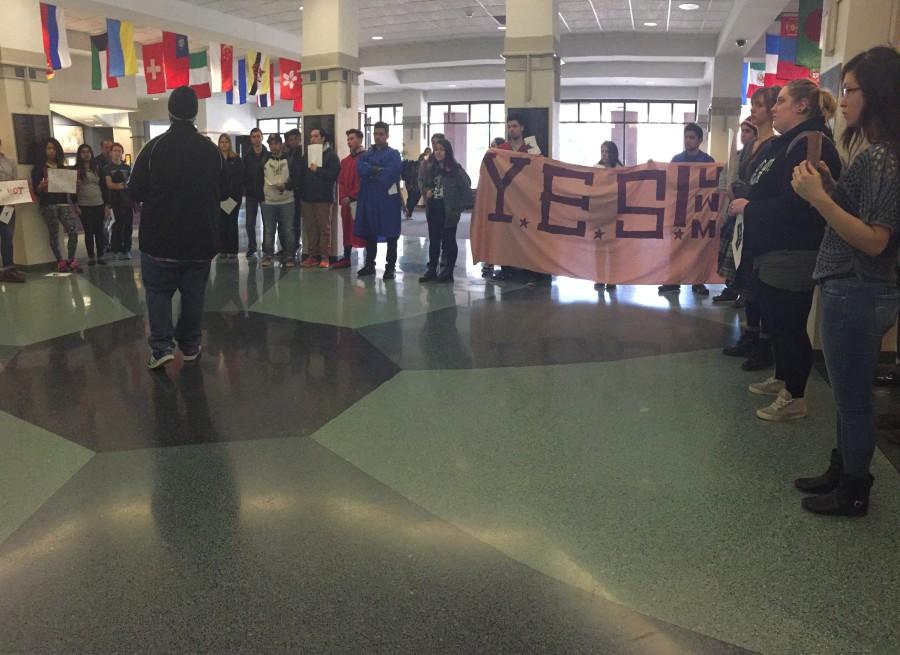 Students, some with signs, marched up the Alumni Memorial Union stairs to the second floor around noon, forming a circle and chanting "no justice, no peace." Three students held a banner with "Y.E.S.! UWM" printed across it and phrases on the signs included "education not deportation," "scholars not illegals" and "el pueblo unido jamas sera vencido," which translates to "the people united will never be defeated."
After around 10 minutes of chanting other phrases including "undocumented, unafraid" and "no papers, no fears," four students stepped into the circle and spoke on behalf of Y.E.S. The rally's point person was Nyree Khamo, president of Y.E.S.! and senior in the College of Nursing.
"There should be no reason for undocumented students – young, smart, bright people who have the potential to be future doctors, future engineers and have the potential to do many things – for their dreams to be cut short simply because they weren't born in this country," said Miguel Sanchez, a junior in the College of Arts & Sciences. "That's something that shouldn't hold anyone back."
A group of around 40 people also continued chanting while walking to Zilber Hall to hand University President Michael Lovell a letter stating their intent to pressure Marquette to establish a scholarship fund for students who are not living in the U.S. legally.
Senior Director of University Communication Brian Dorrington said the university actively supported the Dream Act to encourage the nation's undocumented students to pursue college education
"We appreciate our students passionately supporting education initiatives and have had numerous university leaders meet with the students involved with Youth Empowerment in the Struggle," Dorrington said in an email. "President Lovell, who meets with student groups regularly, had previously agreed and set a time to meet with the group several weeks ago to hear their perspective after Easter break."
"We're talking and talking but we kind of want that action," said Christian Villanueva, a senior in the College of Nursing. "We did it in a very respectful way and we hope to get the same respect that we're providing them. We want to work together on this issue."
After going to Zilber Hall, the group returned to the second floor of the AMU and continued chanting "education not deportation."
"Marquette University has shown a longstanding commitment to providing access to a transformational education and specifically to allow undocumented students to pursue their dreams," Dorrington said in an email. "This year, the university is providing more than $360,000 in scholarships to allow undocumented students to transform themselves, and as importantly, to ultimately transform their families' lives."
Sanchez and Villanueva, some of the rally's leaders, said they hope the rally raised awareness about the presence of students in the Marquette community not living with legal permission. They said their main goal is to establish the scholarship for these students so those students can continue their education.
"Undocumented students who have been Milwaukee residents nearly their entire life do not receive federal aid," said Y.E.S. Secretary Yicel Lechuga, a sophomore in the College of Arts & Sciences, in an email advertising the rally. "Many of the undocumented students here in Marquette are the most susceptible to dropping out due to lack of aid. Continued talks with administrators have resulted in a pledged support but no concrete steps have actually been taken."
This article was updated on March 31, 2015 at 4:06 p.m.
Leave a Comment