Women's lacrosse ousted by Notre Dame 18-8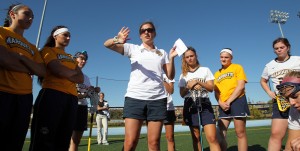 The Marquette women's lacrosse team fell to the No. 17  Notre Dame Fighting Irish (6-4) Wednesday night 18-8.
Junior midfielder Claire Costanza led the Golden Eagles (4-6) in scoring with a hat trick and an assist, increasing her team-high totals, but it wasn't enough to keep up with Notre Dame's high-powered offense, carried by attacks Cortney Fortunato and Rachel Sexton, each scoring five goals on the night. Fortunato now has 32 goals on the season, good for top-10 in the country. It was a tough night in net for the Golden Eagles, as Notre Dame ripped 30 shots, only four of which were off-target. Junior goalkeeper Sarah Priem still managed a good night, recording eight saves in the match.
As telling as the Fighting Irish shot total was, perhaps the game's most important stat was the draw controls per team. Notre Dame won 13 of the 16 first half draws and doubled up Marquette in the faceoff circle 18-9 for the game.
"Defensively we did not have our best game," Marquette coach Meredith Black said after the loss to her alma mater. "Normally that's our biggest strength… but we struggled in the first half defensively and it put us in a hole that was a little too big to dig out of."
Black's team allowed 10 first half goals, but allows just 9.30 goals per game on average. However, Notre Dame got all of its 14 first half shots were on net. The Golden Eagles actually held a 3-2 lead with 19:23 remaining in the opening half, but an 8-2 Notre Dame run, including three goals in the last three minutes of the half, put Marquette out of the game.
The break did little to slow Notre Dame down, as the Fighting Irish opened the half with four goals, before a Costanza goal stopped the bleeding. Marquette managed two more goals, one of which was a woman up, but the damage was done. The Fighting Irish refused to let up, scoring three goals in the last 1:49 and adding insult to injury by netting one with just a single tick left on the clock to take a 18-8 victory.
"I think we did a lot of good things," Black said. "We started the game really strong, I believe, and going up on them 3-2 was great for us. So we can take the strong start… and hopefully take some fuel from the disappointment of a loss into the next game."
Marquette opens Big East play Saturday at Valley Fields against the Villanova Wildcats at 12 p.m.