Women's basketball prepares for Providence and Creighton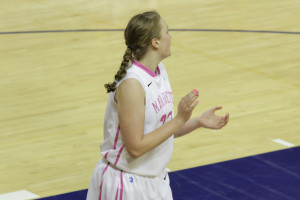 The Marquette Golden Eagles (7-19, 3-12) play two of their final three regular season games this weekend. The team takes on Providence (5-20, 2-12) Friday in Rhode Island, then travels to Omaha, Neb., to square off with the Creighton Blue Jays (15-10, 8-6).
Coach Carolyn Kieger's team is coming off its biggest win of the season, a 73-70 upset against the nationally ranked Seton Hall Pirates on Senior Day. Marquette scored 47 first-half points, their highest single-half point total of the season, and stormed out to a 14-point lead by the intermission. The Golden Eagles stretched their lead to 51-34 in the opening minutes of the second half before the Pirates responded with a 13-0 run, which cut Marquette's lead to four points with 12 minutes to go.
However, a solid rebounding effort and 36 free throw attempts propelled the Golden Eagles to victory. Seton Hall had one last opportunity to draw level when Marquette guard Arlesia Morse lost control of an inbound pass with 4.7 seconds left and her team up by three. However, nobody could quite scoop up the loose ball in time, and Seton Hall's Tabatha Richardson-Smith fired up an errant shot that came after the final buzzer. Marquette hung on for its first victory against a ranked team in the Kieger era.
Morse's efforts proved to be instrumental in the Golden Eagles' win. She tallied 22 points and went 13-of-14 from the line. She also extended her streak of consecutive free throws made to 51 before finally missing one with 1:19 left in the game. Prior to that, Morse's last miss was on Jan. 23. Her streak fell nine short of the NCAA record for consecutive made free throws. She is currently shooting an NCAA-best 93.2 percent from the line. Morse also made the weekly Big East honor roll for her performance against Seton Hall.
The upset vaulted Marquette from being tied for last place into sole possession of eighth place. Despite what its conference record would suggest, Marquette's level of play has improved as of late. After starting off the year 0-9 in conference play, Marquette has gone 3-3 in its last six games.
The Providence Friars, one of the teams Marquette vaulted past Sunday, will be the Golden Eagles' first opponent. Providence is tied for last in the Big East. The Friars have lost six straight games and 13 of their last 14. However, the one win among those fourteen games was against the Golden Eagles in January when the two teams faced off in the Al McGuire Center.
Marquette's other opponent this weekend is the Creighton Bluejays. The Bluejays started conference play 2-6 before reeling off six consecutive wins, a streak still intact. Watertown, Minn., native Marissa Janning is Creighton's leading scorer for the season, averaging 16.4 points per game.
The Golden Eagles must be careful not to get tripped up this weekend. Seton Hall got a huge win against DePaul two days before its letdown in Milwaukee, and Marquette must be wary that the same does not happen to them in Providence. Tenacious rebounding, lots of drives to the basket and smart off-ball movement will be key to Marquette's success this weekend.
Friday's game will be available for viewing on friars.com at 6 p.m., and Sunday's game can be seen on gocreighton.com at 1:05 p.m.