Marquette announces accelerated master's program for STEM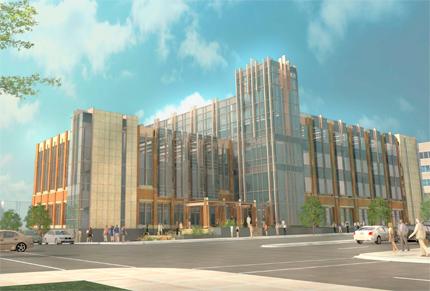 Students wanting to get a master's degree in science, technology, engineering and math — better known as STEM — will be able to do so in five years through an accelerated program announced last week.
The program, which will be available through the Graduate School of Management beginning next fall, adds onto University President Michael Lovell's initiative to amp up technology-driven degrees at Marquette.
"It's the first program of its kind in the area and one of only a few nationally," interim provost Margaret Callahan said in an email. "We created this program in a response to employer needs – employers have told us they'd like to see applicants who have both the technical knowledge in their fields and the business and management skills to be leaders in the industry."
Jeanne Simmons, associate dean for the Graduate School of Management said in an email that students enrolled in the program will take undergraduate business classes as part of their undergraduate degree that will fulfill courses in the MBA program and possibly lead to a business minor. As seniors, the students will take six to 12 credits of graduate MBA classes that will count toward both the undergraduate and graduate degree.
Additionally, if students in the program decide to not complete the fifth year of the program and earn their MBA, the structure of the program allows them to still earn a business minor.
"These students will help build diversity of backgrounds in our MBA classes, which makes it a more rich discussion environment for everyone," Simmons said. "Marquette has world class programs in Arts & Sciences, Business and Health Sciences. It was natural to pair these programs together to better address the needs of our students and the marketplace."
For students to be considered for the program, they must note their interest when applying for admission to Marquette and apply to the Graduate School of Management during their junior year.
"This program will save them time and money in earning an MBA degree," Simmons said. "The students will participate in a co-op or internship in their undergraduate area. This will give them work experience that will help them get the most out of the MBA and will help them get a job upon graduation."
Simmons said that Joseph Daniels, chair of the economics department, initially contacted and worked with the deans for the College of Arts & Sciences and College of Health Sciences. Once Daniels had support from these deans, Simmons worked with the associate deans to develop the curriculum.
Simmons also said she credits Michelle Schuh of the College of Health Sciences and Rosemary Stuart of the College of Arts & Sciences in getting the programs together and approved.
"The MBA market has been down nationally for some time," Simmons said. "We have been looking at innovative ways to respond. Seeing a number of people coming into the MBA program with backgrounds in science got us thinking about this program. After talking with these students they felt like it would be a good program and that the students would be very marketable coming out."
Leave a Comment