Women's basketball continues homestand against Villanova, Georgetown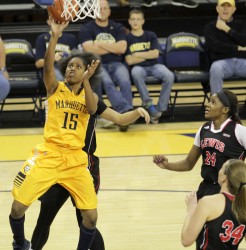 The Marquette women's basketball team (4-16, 0-9) will have two opportunities to end its nine-game losing streak at home this weekend, facing off against the Villanova Wildcats (12-9, 6-3) and Georgetown Hoyas (4-17, 2-7).
The Golden Eagles haven't won since defeating Western Illinois at the Al Dec. 21, 65-57. Since that game, Marquette has lost by an average of 16 points, being outscored 716-572 during the stretch. Marquette is led in scoring by senior guard Arlesia Morse (14.3 points per game) and freshman guard Kenisha Bell (14.1 ppg).
The Golden Eagles rank fourth in the conference in scoring offense (66.6), but rank last or second to last in scoring defense (78.6), field goal percentage (.384) and three-point field goal percentage (.250). Most of Marquette's problem, as coach Carolyn Kieger put it, is "putting a full game together." Marquette has yet to put together a field goal percentage of 50 percent or higher in consecutive halves of a game during the losing streak, causing many of the team's struggles of late. However the largest area of concern is ball security. The Golden Eagles rank dead last in turnovers, turnover margin and assist-to-turnover ratio,  averaging 19.3 turnovers per game.
Marquette will first take on Villanova, a team sitting at fifth in the Big East, right in the middle of the conference chaos. Villanova isn't too statistically intimidating, but the Wildcats are first in the league in one very important category: turnovers. The Wildcats average just 8.8 turnovers per game, nearly 11 fewer than the Golden Eagles. They also have the best assist-to-turnover ratio in the Big East at 1.7, as a team putting up more than 15 assists per game.
Georgetown, on the other hand, is less threatening. The Hoyas head into the weekend with five straight losses and sit just above Marquette in the Big East standings. Georgetown is also the only team in the conference with a worse shooting percentage from the field than the Golden Eagles (.366). The Hoyas and Golden Eagles are generally side-by-side in stats in the Big East basement, but the key in this game will be the Hoyas' rebounding. Georgetown out-rebounds its opponents 940-881 on the season and has the most offensive rebounds in the conference, as well as the second-best rebounding margin. The Golden Eagles rank seventh.
Marquette will face Villanova at 7 p.m. Friday at the Al and will finish the homestand against Georgetown Sunday at 2 p.m.