Q&A with stars of 'Horrible Bosses 2'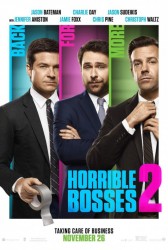 Actors Jason Bateman, Charlie Day and Jason Sudeikis joined dozens of colleges in a nation-wide conference call ranging from universities all over the U.S. and Canada to talk about their upcoming film, Horrible Bosses 2. Bateman, Day and Sudeikis share their experience making the film and dish some of the funniest moments they had while on set. "Horrible Bosses 2" will come to theaters later this month on Nov. 26.
Question: Have you ever had a boss that you would like to murder or kidnap?
Jason Bateman: I started acting young, so I never had traditional bosses, but I've certainly worked for prickly directors and movie stars, producers and studio heads, but no real stories that I can think of. I'm waiting for a real son of a b**ch to come my way.
Q: Have you ever been a horrible boss yourself?
Charlie Day: I don't think so, I think we're pretty fair guys. We have employed some people here and there, but no one has filed complaints yet that I know about.
JB: I got my two-year-old into the car pretty quickly this morning, so he'll probably tell you I'm a real a-hole, but we weren't late for school.
Q: So Horrible Bosses 2 has primarily been made due to the financial success of the film in the United States. Do you believe that this played a factor in the sequel? Why?
JB: You're definitely right. You get asked to make sequels when it makes enough money to warrant it. And it did really well over seas, which is uncommon for a comedy.  New Line and Warner Bros wanted to do another one, and we were certainly open to it because we had such a good time doing the first one. What we didn't want to do was make a film that wasn't as good as the first one. We worked really hard in attempt to do that. Hopefully you'll like it as much, or more.
CD: If a movie studio doesn't make enough money on the first one, well they're not going to spend money on making a second one because it's a business. Then there's the creative side of it, where you're right, does it make sense to make a second story? And Jason, Jason and myself had a lot of lengthy conversations about what the second story could be, and we weren't going to do a movie that didn't have a story, that for us made sense. There's the business side, but then there's the creative side where it made sense for us to do it.
Q: What is the funniest thing that happened on set? Any pranks?
JB: There was a lot of goofing around and making each other laugh on camera, off camera. We didn't have to try to keep it light. Sometimes you'll get practical jokes on set to kinda loosen the mood, but we were actually trying to simmer things down and be serious and get some work done.
CD: Not a lot of whoopee cushions on that set, you know what I mean? We wanted to make sure everyone got home to their kids, but we had fun making it.
Q: How do you expect viewers to react to this movie?
CD: I'm hopeful that they're really going to like it. I expect people to be skeptical, and I hope that they're pleasantly surprised.
JB: I'm pretty fair about being objective, and I really enjoyed the first one as a viewer. And I watched this one with the same perspective and I generally like it more than the first. If people see it the way I see it, they're going to be very happy with this one. I'm feeling good.
Q: It's been a couple years since the first film, what was it like to revisit these characters?
CD: As actors, it was really fun for the three of us to get back together again, because we enjoy each others company and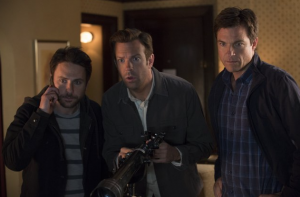 we had a great time making the first one. As characters, it's a terrible thing for these people to get back together again because they keep getting themselves into some serious trouble.
Q: Did you feel pressure to make this film as funny as the first?
Jason Sudeikis: We certainly felt the pressure amongst ourselves and then the fans of the movie, but that pressure gets released the second you start working. We just had a good time making each other laugh.
JB: It would be more pressure packed if we were doing the same material. So basically we get a nice free shot at it.
Q: In this movie there's an expansion of the cast with Jamie Fox, Chris Pine and Christoph Waltz. What was it like to work with them?
JB: This is a big silly commercial comedy, and when you can class it up with some Oscar winners, it becomes a really nice balanced cocktail. Everyone loves a properly mixed cocktail, am I right? It was really cool to work with all those people.
JS: It's really flattering to make the first one, and have it exist, and then make the second one and have people saying, "oh yeah, I really want to be apart of that." You love the fact that they want to come on board.
CD: Especially for a sequel, where sometimes it can lack the "prestige" of the first movie, and when you get actors and actresses of that caliber to join your movie, it's great.