Kimberly-Clark CEO emphasizes sustainability at forum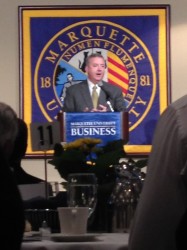 Kimberly-Clark Corp. CEO Thomas Falk spoke Wednesday, emphasizing social responsibility for businesses as the keynote speaker at Marquette's Business Leaders Forum.
"There's more than a billion people in this world, mostly in Africa and India, that don't have access to sanitation so we're working to provide sanitary toilet facilities," Falk said at the forum, hosted by the College of Business Administration in the Alumni Memorial Union ballrooms.
The forum was part of an annual speaker series for the college. Falk's speech, titled "The Sustainable Enterprise," was introduced by University President Michael Lovell.
"For those of you who study leadership, you know that organizations take on the personalities of those who are leading them," Lovell said.  "In the past year alone, (Kimberly-Clark) was chosen to be among the world's most ethical companies for the third consecutive year."
When Falk was younger, former University President the Rev. John Raynor was on the Kimberly-Clark board of directors before he passed away in 1997. In addition, Falk's son is a Marquette alumnus.
"(Raynor) put me through my paces, so I remember the clear impression I got then of what a Jesuit education can do for you," Falk said.
Kimberly-Clark, a 21 billion-dollar company, serves around 1.6 billion people every day. It was founded on principles of "quality, service and fair dealing,"  which has kept the company sustainable and exercising social responsibility, Falk said.
In addition to his CEO role, Falk serves on the boards of Lockheed Martin, Global Consumer Goods Forum, Catalyst and the University of Wisconsin Foundation. He is also a National Governor of the Boys and Girls Clubs of America. He received his master's degree in management from Stanford University and bachelor's degree in accounting from the University of Wisconsin.
Leave a Comment