Soup for Substance promotes structural social justice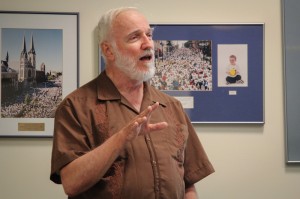 The Rev. Joe Mulligan spoke at Monday's Soup for Substance event, encouraging students to become active proponents of structural social justice in the lead-up to the 25th anniversary of six Jesuit martyrs murdered in El Salvador.
Mulligan, who lives in Nicaragua, is the author of The Jesuit Martyrs of El Salvador: Celebrating the Anniversaries, which looks at the murders of the six Jesuit professors by Salvadoran soldiers on November 16, 1989, near the end of the Salvadoran Civil War. In addition, a housekeeper and her daughter were murdered on the campus of the University of Central America (UCA) in San Salvador.

Since most of Marquette's current students weren't alive in 1989, Mulligan discussed what the six Jesuit martyrs mean to students at this part of their lives. His presentation touched three main points of active compassion, political organization and prophetic courage.
"What I think can serve as inspiration and encouragement for us is the (martyrdom's) active compassion," Mulligan said. "But it's not a matter of the sentiment. It doesn't help the person if we don't do anything, so we need to take action."
However, Mulligan said active compassion needs to be more structural than individual in order to be fully effective.
"To the extent that we can change the structures of society, we can make a better life for many more people," Mulligan said. "It has to do with organized love, that we make organized efforts to create a more just society in this world."
In addition to active advocating, Mulligan talked about seizing the 25th anniversary as a time to reflect critically on what led to the killings, especially since the U.S. generally supported the Salvadoran military in the 1970s-80s.
Mulligan also warned students about a false dichotomy surrounding the work of the six Jesuit martyrs.
"Were the martyrs killed because of their faith in Jesus or because of their involvement in the struggle for justice? Well, it's both," Mulligan said. "And their involvement in the struggle for justice was simply an expression of loving their neighbor."
A delegation of students from the 28 Jesuit universities in the U.S., including Marquette, will send students, faculty and staff to San Salvador to mark the 25th anniversary of the of killings at UCA. The event takes place Nov. 12-17.
"Don't mourn on this 25th anniversary of their death," Mulligan said about the martyrs. "We can feel sorry, and that's probably good in itself, but we need to take action to continue the efforts of these martyrs and of others for peace and justice."