Jesuits mourn the loss of colleague killed in Syria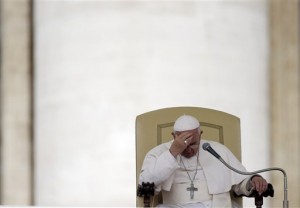 The Jesuit community continues to mourn the loss of a Dutch Jesuit killed in war-torn Syria April 7.
The Rev. Frans van der Lugt, 75, was forced outside of his monastery in the government-seized Syrian city of Homs by an unidentified gunman who beat and shot him in the head.
van der Lugt went to Syria in 1966 to minister Christians and help Muslim and Christian families living in poverty, according to Missouri Provence Jesuits' website. He refused to leave once the Syrian Civil War broke out in 2011.
"The Syrian people have given me so much, so much kindness, inspiration and everything they have," van der Lugt said to the Agence France-Presse. "If the Syrian people are suffering now, I want to share their pain and their difficulties."
Jan Stuyt, secretary of the Dutch Jesuit Order, told the AFP he was not aware of particular threats to van der Lugt, adding that the priest will be buried in Syria.
Marquette's Jesuit community was notified of the murder via email.
"The manner of Father van der Lugt's death is a real testimony to what a powerful affect his life must have had on the people he served that his enemies would select him out in this brutal, inhuman way," said the Rev. John Laurance, an associate professor of theology. "That he is a martyr of the Church humbles me to be associated with such awesome human beings through the centuries."
The Rev. Joseph Mueller attended campus-held masses to pray for van der Lugt's safety and for the freedom of religious expression in Syria.
"I am glad that Father van der Lugt decided to stay in Homs with the people who could not get out," Mueller said. "I pray that peace will come to that city and country, and the people who did this to him."
The murder took place in front of other Jesuit missionaries who were doing the same work as van der Lugt.
"The murder adds to the shock of what is already going on in Syria," Mueller said. "This is the main point of attention for Jesuits in Syria right now."
About 10 percent of Syria's population is comprised of Christians, including Roman Catholics and Protestants. The majority of Syrians practice Islam.
"(van der Lugt) had the courage to spread God's word and he made that more valuable than (his) life," said the Rev. Thomas Caldwell. "It's an action that's appreciated by all."
Born in the Netherlands on April 10, 1938, van der Lugt  joined the Society of Jesus in 1959.
"In a way, I wasn't surprised by van der Lugt's martyrdom," Laurance said. "In its lived witness to Christ, the Church has had and will continue to have martyrs in every century of its existence. This murder simply makes me want to pray more fervently for peace in that war-torn country."
The Marquette community felt the effects of Syrian violence in 2012 when alumnus James Foley, an international freelance reporter, was abducted while on assignment in Syria. He still has yet to be found.
Leave a Comment