Law poll finds that voters are split on Walker, Burke still an unknown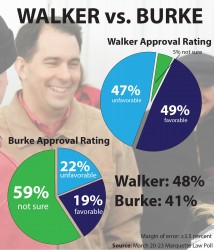 Most of the state remains stable in its opinion of Gov. Scott Walker and presumptive his Democratic opponent, Mary Burke, according to a Marquette Law poll released Wednesday that previewed the state's gubernatorial election.
Walker leads Burke 48 percent to 41 percent among potential voters, which is not much of a change from January when Walker was up 47 percent to 41 percent. The results of the poll, which surveyed 801 voters between March 20 and 23 via phone calls, were revealed by the poll's director Charles Franklin during a session of "On The Issues" with host Mike Gousha.
The poll touched on the release of thousands of emails sent by Walker during his 2010 campaign as part of the long-running John Doe investigation. According to the Milwaukee Journal-Sentinel, Walker aides set up a private router in the county executive's office that they used to perform campaign duties while working for the county. It is illegal for Wisconsin public employees to work for a political party or campaign while on duty, and six former aides were convicted as part of the investigation.
Sixty-seven percent of those surveyed said they had read or heard about the release. Though Walker was not charged with any wrongdoing after the probe was closed last year, 43 percent of respondents said the emails gave them a less favorable view of the governor, while 53 percent said it had no effect on their opinion.
Respondents were also asked about their evaluation of Walker's first term, and his campaign pledge of creating 250,000 jobs. Only 13 percent of respondents said Walker would fulfill that promise, with 80 percent saying he would not.
"Walker might be somewhat vulnerable on jobs creation," Franklin said during his presentation of the poll results.
Twenty-nine percent of those polled said Walker's ability to fulfill his pledge was "very important" to them, while 44 percent said it was "somewhat important." In terms of job creation, 45 percent of respondents said Wisconsin lags behind other states, 37 percent say Wisconsin is even with other states, while 12 percent said Wisconsin is doing better.
Mary Burke discussed her newly-released Wisconsin jobs plan to combat Walker for the first time during an earlier episode of "On the Issues" Tuesday.
The plan, titled "Invest for Success," emphasizes Wisconsin's need to invest in an entrepreneurial culture and center the state's economic development around strongly established industry "clusters." The plan was released Tuesday, five months after Burke announced her candidacy.
"Every good business person knows that if you want to grow, you want to make investment," Burke said of her plan.
However, Burke's plan might not matter if voters do not know her. While respondents' views of Mary Burke were 19 percent favorable and 22 percent unfavorable, 59 percent of respondents had no opinion of her or did not know enough about her to have an opinion.
Franklin said this is an improvement, however, because when the same poll was conducted in January, 12 percent found Burke favorable, 18 percent unfavorable and 70 percent did not know enough to comment.
"While this is hardly a deluge on knowing who she is, it will probably take the rest of the summer to get name recognition," Franklin said. "We're starting to see more people who know who she is, even though it's still a net negative."
Walker, on the other hand, has a 49 percent favorable rating, with 47 percent viewing him negatively and 5 percent having no opinion or not knowing enough to comment.