Buzz Williams' leaves Marquette for Virginia Tech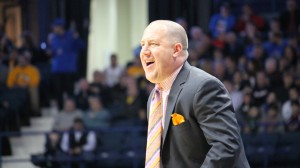 For three years in a row, the Marquette Golden Eagles reached at least the NCAA Tournament's Sweet Sixteen, and after each of those seasons came rumors of coach Buzz Williams leaving for other programs. But it was following his least successful campaign that those rumors became reality.
Williams called a team meeting Friday to tell his players he would accept the head coaching position at Virginia Tech after the Golden Eagles missed out on postseason play for the first time in more than 10 years.
Marquette interim athletic director Bill Cords confirmed the decision later that day, stating the program wished Williams well and had already begun its search for his replacement.
"Head men's basketball coach Buzz Williams has been an integral part of the Marquette community for the past seven years, including six as head coach, and we wish him and his family all the best as he takes on this new opportunity," Cords said in a news release.
Before the news could sink in, Williams' Twitter profile changed from blue and gold to Chicago maroon and burnt orange, and featured a background photo of the Cassell Coliseum court.
The official Virginia Tech athletics website also quickly reacted to the hire, uploading Williams' information to its staff directory database. However, the profile featured a photo of former Marquette assistant coach Scott Monarch, who the caption mistakenly identified as Williams. The error was corrected.
"It's never easy to leave a great school like Marquette, where I spent seven wonderful years, six as the head coach," Williams said in a statement released by Virginia Tech. "I've heard tremendous things about this terrific institution and this is an outstanding opportunity to build a program."
After making $3 million per year as the coach of the Golden Eagles, Williams will reportedly earn $2.3 million in the first year of a seven-year, $18 million contract with the Hokies. He reportedly agreed to the pay cut due to the instability of Marquette's program and the realigned Big East.
At Virginia Tech, Williams will enjoy the exposure of the ACC's TV package with ESPN and the opportunity to coach against former rival Jim Boeheim of Syracuse, as well as living icons Mike Krzyzewski of Duke and Roy Williams of North Carolina.
Williams didn't shy away from the spotlight following the announcement, appearing on CBS Saturday during the network's coverage of the NCAA Tournament sporting a spiffy new Virginia Tech pin.
"I'm really thankful and humbled for the time that my family and I were able to be at Marquette," Williams told CBS's Greg Gumbel. "But we're also really excited to be at Virginia Tech now. It's happened really, really fast. Flew to Blacksburg late last night, had a team meeting this morning and flew here."
The move clouded the future of Williams' recruiting classes with Marquette. Sandy Cohen, a 2014 commit, tweeted Saturday night that he was released from his National Letter of Intent per his own request. Cords dispelled Cohen's claim Monday, however, stating the recruit has since apologized for the post.
"He has not been released," Cords told the Milwaukee Journal Sentinel. "Nobody has been released. I had a long talk with Sandy and his coach to explain the situation. He was uncertain about the rule. I called him after the tweet. He felt he didn't understand it that way. He apologized. Now he understands and we're clear."
Williams' move received mixed reviews from former Marquette players. Marc Marotta, a former Academic All-American and the current chairman of the BMO Harris Bradley Center Board of Directors, called Williams' decision "one of the most idiotic moves I've ever seen anyone make" Friday. Marotta, who played under both Hank Raymonds and Rick Majerus from 1980-84, went on to label the Virginia Tech position as a "dead end."
On the flip side, Dominic James, a former Big East Rookie of the Year who Williams coached in 2008-09, took to Twitter Friday to voice his abiding support.
"Love @TeamCoachBuzz for everything," James tweeted. "God bless his journey to V Tech…Brian Wardle's time if my opinion mattered at all."
Williams became the most recent departure from Marquette which recently lost its president, athletic director and three other members of the University Leadership Council.
The decision ended one of the most fruitful coaching stints in Marquette history.
Leave a Comment