Marquette survives thrilling finish, now 9-6 in Big East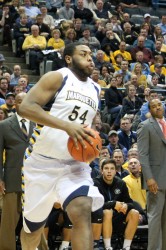 Seniors Davante Gardner and Jake Thomas combined for 48 points, as Marquette kept its slim NCAA hopes alive with a dramatic 75-73 win over Georgetown.
In a game of runs, Thomas kept Marquette going with six 3-pointers to finish with a career-high 22 points. Gardner, however, was the closer for the Golden Eagles, as he scored 11 of his team's last 12 points.
But the loudest cheers of the night came not for any shot Marquette made, but for the last two Georgetown missed.
The Hoyas got off to a fast start with an early 12-4 lead, but the Golden Eagles used an 18-7 run to tie the game at 22 with 10:02 left in the first half.
Early in the second half, the Hoyas ran into foul trouble in the frontcourt losing both Moses Ayegba and Nate Lubick in the first 10 minutes of the half.
Gardner's three-point play put Marquette up by six with 3:58 left to play, but D'Vauntes Smith-Rivera answered with a 3-pointer to cut it right back to a 72-69 Golden Eagle lead.
After a timeout, Todd Mayo had the ball knocked out of his hands and off his knee out of bounds to Georgetown. Following a timeout by John Thompson III, Derrick Wilson drew a huge charge on a drive by Markel Starks.
Starks took the ball away from Thomas and fed Jabril Trawick on a ferocious transition dunk to cut it to 72-71.
After a miss from Smith-Rivera, Gardner put up a tough hook shot that barely hit rim, but he hustled to grab his own rebound and was fouled on the second-chance attempt. He knocked down both free throws to stretch the Marquette lead to three points with 1:17 remaining.
Juan Anderson was called for blocking after Starks tripped over his heel. Starks made both free throws and Gardner missed a contested layup off a feed from Jamil Wilson at the other end.
Following another Hoyas timeout with 30.4 seconds left, Starks drove and tried a jumper from in close, but it didn't have quite enough on it and the rebound fell to Anderson.
After a make and miss from Anderson at the free throw line, Smith-Rivera drove in for one last chance but could not get the contested potential game-winning layup to fall and time expired.
The win raises Marquette's Big East record to 9-6 and 17-11 overall. The Golden Eagles take on Villanova Sunday in another crucial matchup.
Leave a Comment