'Almost, Maine' offers apt themes for Valentine's Day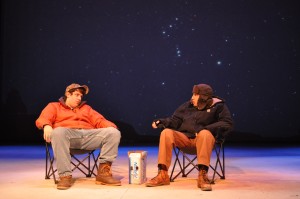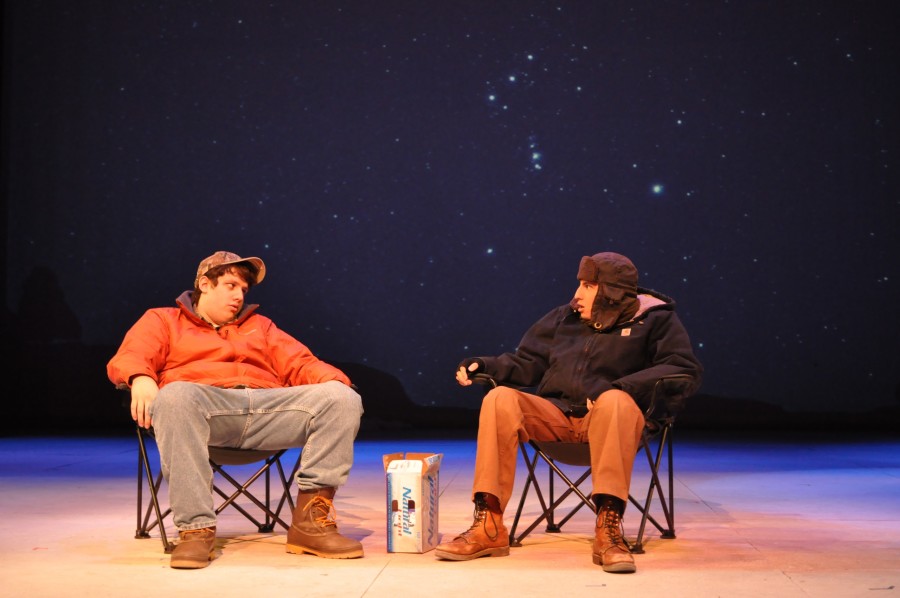 The theme behind Marquette Theatre's "Almost, Maine" is strikingly appropriate for Valentine's Day. The play, opening Thursday, details different moments in couples' lives that cover every stage in the relationship spectrum from finding the perfect someone to possibly losing them.
Set in the small titular town of Almost in Maine, the story takes place one winter night as nine different couples fall in or out of love. The characters often find themselves actually carrying their hearts or love in bags. The lighthearted nature of the show is reflected in the way outlandish events happen. Each scene has a theme, sometimes a play on words, that helps dictate how the characters' relationships will play out.
"The show  is really about these real life problems and circumstances in a fantastical setting sort of environment," said Armando Ronconi, a junior the in College of Communication who plays four different roles in the production.
More importantly, the play arrives just in time for the holiday that allows people to explore what makes relationships rewarding – and sometimes painful.
"It's (about) that vulnerability between every single couple and how that can either be a really beautiful thing or a really scary thing," said Kaitlin Martin, an actress in the show and junior in the College of Communication.
Director and Artistic Associate Professor of Theater Arts Debra Krajec said the timing of the show's opening was intentional.
"We thought it would be a wonderful, just entertaining, light, sweet thing to do in the dead of winter when we could probably use it," Krajec said, "and also since we're opening the day before Valentine's, we thought it'd be nice to do a love story."
Putting on the show created a difficult balance for the actors as they tried to manage multiple roles. The cast consists of six actors, each playing at least three different characters in nine scenes.
"It's a challenge playing four characters, but the best part is getting to show their entire lives in ten minutes. It's challenging, but it's fun," Ronconi said.
The short amount of time the actors have to get into their respective roles also creates problems. Molly Edwards, a senior in the College of Arts & Sciences, plays three different women in the show.
"Each scene is only about 10 or 15 minutes so you don't really have time to settle into a character's (mindset)," Edwards said. "You know you really have to be one right when you come on, and in addition to that, you have to make these characters distinctive enough … so we've worked a lot on making these characters very diverse."
Hannah Klapperich-Mueller, a junior in the College of Communication who also plays three characters, said she struggled with her roles because some are complete opposites from each other.
"The idea of playing two different characters that are diametrically opposed to each other (is difficult) in a lot of ways because parts of them are both parts that are similar to myself, but then there are other parts that are really not," Klapperich-Mueller said. "Trying to find those differences and then telling truth about them as well and being a different person, like, how do you do that?"
For Peter Sisto, a senior in the College of Arts & Sciences, the play itself was a new experience.
"I've only been in musicals here so far, and this is the first one I felt I had to challenge myself as doing more serious stuff, totally much more serious stuff," Sisto said, "and then changing characters every scene (meant) finding differences within the subtleties and stuff."
The actors, if they have any doubts about their performance, have their director's confidence.
"For the performers, (the challenge is that) they each are going to play three different roles in the show," Krajec said. "They've done really well and I've had a really great time with this group. They've been really receptive to everything."
"Almost, Maine" promises to be a reprieve from the monotony of the weather this February.
"This winter has been really awful and hopefully audiences will enjoy coming just being entertained and seeing something that makes you think and is not what you expect," Krajec said. "It's not totally cliched, but (it) is a love story."
Leave a Comment