Brianna Hansen, a junior in the College of Communication, is a full-time student working one job at WISN-TV and two more on campus.
"I work from 2 a.m. to noon, and then I go to class," Hansen said. "It's kind of rough, but you know, college is really expensive. Scholarships can only go so far."
Like many other undergraduates at Marquette, Hansen is working her way through college and taking out huge loans to finance the payments. To hear that the university is adding $1,280 to tuition for the 2014-15 school year is still stressful, despite it being the lowest increase in four years.
"I know the university didn't make me go here and pay all this money," Hansen said. "But I still think it's a lot. The price of tuition in general is just ridiculous. How do they expect us to pay all this off?"
THE SLOWING GROWTH IN TUITION
This year's tuition increase, which brings the full-year price to $35,480, continues a trend of Marquette's tuition growth slowing over the past four years. This is the smallest jump in tuition since the increase for the 2009-10 school year.
On top of the tuition increase, the university also announced in a University News Brief that rates for room and board will increase at an average of 2.5 percent. Other prices, such as part-time enrollment, the graduate school, the Graduate School of Management or the College of Professional Studies, will not increase.
The news of the latest tuition jump resulted in mix of feelings among students.
"I'm really glad that it's the smallest increase (since 2009)," said Olivia Doyle, a sophomore in the College of Education. "I understand that there's a lot of factors that go into tuition, so it's something to be appreciative of that the increase wasn't enormous because college is super expensive."
Others like Joseph Marineau, a junior in the College of Engineering, expressed more frustration.
"It didn't go up as much as earlier years," Marineau said. "But at the same time, it did go up."
Marquette tuition increases every year to keep up with the rising costs of higher education. In the university's Financial Overview, the Office of Finance identifies the key cost drivers in the industry, including labor, maintaining buildings and equipment, technology and regulation.
Students frustrated with the recent increase in tuition may be relieved to know tuition behavior became a lot less extreme during the few years.
Between 2003 and 2013, Marquette's per-semester undergrad tuition increased by 76 percent, according to the Office of Institutional Research and Analysis. Adjust those prices to inflation, and Marquette's per-semester undergrad tuition increased by about 36 percent. The rising prices were most violent right in the midst of the recession, when tuition increased by 12.4 percent for the 2008-09 school year, the largest price jump at Marquette since at least the '60s.

Since that increase, though, tuition hikes cooled down substantially. No increase surpassed more than 4.5 percent between 2009 and 2014, achieved by the work of the university's Office of Finance.
"It's been a conscience, deliberate effort to keep costs low," Vice President of Finance John Lamb said in an interview in October.
Lamb also said the university is always examining its budget to be more efficient. Although last year's budget increased by about $3.5 million according to the Office of Finance, Lamb said expenditures scaled back about $2.5 million.

FUTURE BUDGET CUTS
Efforts to reduce the budget will extend into Marquette's next fiscal year as well.
"Finalizing the tuition rate is just one of many steps in the budget process, which is ongoing," said Andrew Brodzeller, associate director of university communication, in an email.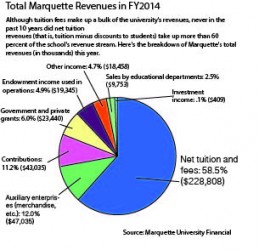 In a letter to parents, Interim University President the Rev. Robert A. Wild said the university achieved this reduction in price growth by examining its budget and making "cost-reduction initiatives."
"My top priority since October has been working with the university leadership team to take a proactive approach to reduce costs and improve efficiencies across campus," Wild wrote in the letter. "This fiscal focus recognizes our need to control costs for students and parents, while continuing to provide a Catholic, Jesuit education steeped in excellence."
Brodzeller said the university laid out four goals in planning the budget for fiscal year 2015. One of those goals was to decrease the rate at which tuition would increase, which was accomplished.
The other three goals include balancing the FY2015 budget; creating a merit pool to provide salary increases to retain and recruit faculty and staff; and forming a strategic initiative fund to finance new initiatives in the strategic plan.
As part of the process to shape the budget for FY2015, the President's Advisory Group asked each dean and division head of the university to prepare three budget cut scenarios — 5 percent, 10 percent and 15 percent — in December. Lamb said in an email that faculty salary expenditures are exempt from the budget scenarios, and the focus of the budget assessment process will be on "administrative expenditures."
"We're having discussions all the time," Lamb said. "Everything's on the table. We're looking at personnel and we're going to try to justify each of the positions."
Brodzeller said details of the budget will be decided over the next two months.
"The budget scenarios were provided to ensure the process is reflective, thoughtful and inclusive, while providing multiple options to assess how the university can best manage costs and continue to provide a world-class education for our students with faculty and staff dedicated to their work and the Marquette mission," Brodzeller said.
FINANCIAL AID FROM MU
Although the tuition rate increased for all students, no one student pays the same rate due to financial aid.
Susan Teerink, director of student aid, said in an interview in December that almost 99 percent of students receive some form of financial aid from the university, government or other source. She also said the university does not compute the average amount students pay after aid because "it's not very helpful."
"It's very individualized," Teerink said. "We award based on each person's family circumstance."
Teerink did note, however, the amount of financial aid offered to students increased greatly over the past three decades. In the late '80s financial aid became a strategy for schools to recruit students, not only based on need but also on merit. In a way, she said, schools began to compete with their dollars to attract great students, and merit-based aid has only grown since.

"It's sort of like a treadmill where, now that everybody else is doing it, you don't want to be the first to get off," Teerink said. "It really would put you at a disadvantage when it comes to recruiting students."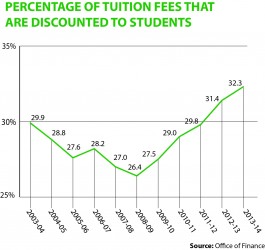 Teerink referred to this process as an "arms race," which she said really affected higher education and put Marquette at a huge disadvantage.
"We don't have a tremendous amount of money and leeway to do that because we tend to have a fairly needy population," Teerink said. "We often can't offer the aid package that schools with much bigger endowments can offer."
Marquette discounts just under a third of the revenue it collects from tuition fees, a percentage which did not change much over the past decade according to the Office of Finance.
However, the amount of money discounted to students nearly doubled in that time period.
In 2003, 30 percent of tuition revenue was discounted, compared to 32 percent discounted in 2013. Discounts took a dip, though, during the recession, hitting a low of 26 percent of revenue in 2008.

Teerink said despite the university's efforts to cut costs, she thinks it would be unlikely for the university to cut financial aid in the future because it is a vital aspect of enrollment. Most likely in the years to come the amount of discounts to students will continue to rise at the same rate as tuition.
This, she said, is always difficult for families.
"We never have enough money," Teerink said. "Even with all that we have to offer, it's just never enough."
THE QUESTION REMAINS
While reviewing student reactions to the increase, one of the most common sentiments expressed by students is the confusion as to where the increase in tuition dollars specifically goes.
"I understand the cost will increase with time," Marineau said. "But no one actually knows what the money is going for. We just know we have to pay more."
Hansen expressed similar sentiments, which she said she developed while working at a university office. She, like many other undergraduates, indicated she would like more details from the university about its budgeting process.
"I just really want to know where it's all going," Hansen said. "I feel like we could cut costs somewhere … Is it necessary? Is it really worth $1,280 more?"
Story continues below advertisement