70 attend memorial service for Keith Carr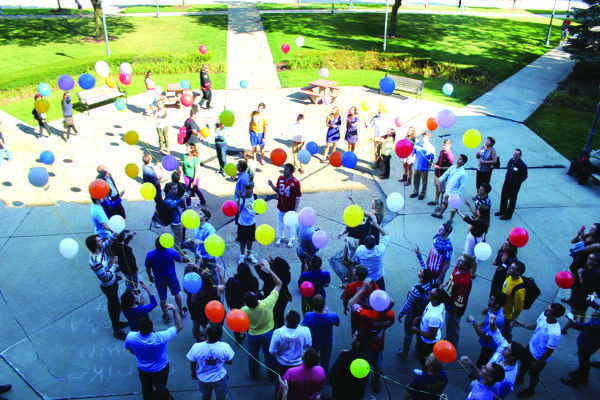 More than 70 friends and family members remembered Andrew "Keith" Carr during a memorial service Sunday in the Alumni Memorial Union. Carr, who would have been a junior in the College of Business Administration, passed away June 11 while studying abroad at John Cabot University in Rome.
Reports from the Italian news media said Carr, age 21, was walking with friends along the Tiber River when he lost his balance and fell approximately 50 feet to the banks of the river.
Though a memorial service took place for Carr during the summer, his friends and family decided to host another when more people were back on campus, said the Rev. Thomas Anderson, the priest at Schroeder Hall where Carr lived during his sophomore year.
"We wanted today to be a day to remember Keith and share stories, and that is exactly what we are going to do," he said.
Cecilia Ware, a junior in the College of Education, recalled receiving a text message from Carr at least once a week last year at 3 a.m. that read: "Yo, Walgreens now, chips and salsa, we got to snack."
"I used to receive texts like this all the time," Ware said. "He made me feel loved, that is the most important thing in a friendship. He made everyone feel loved."
To embody Carr's unique style, the memorial service included different colored balloons and crayons at every table.
During the memorial, friends and family were instructed to write down one word that described Carr to them. For some people, one word encapsulated Carr. Words like "perfectly imperfect," "goofy," "joy," "shaggy" and "inspirational" were used to describe Carr.
These words inspired stories, like the time he showed someone his Pop Tart carrying case, reasoning that he needed it so his Pop Tarts would not get squished, or how he once used Harry Potter to help a friend pick up a girl.
For other people though, one word was not enough to describe Carr.
"He loved all types of music, from punk rock to Eminem and Taylor Swift," Marcus Wendorff, a junior in the College of Business Administration, said. "And he loved colors. He went from playing football and baseball to playing Quidditch here. You could say he was your best friend, and I knew for sure that he was mine. He was my Mr. Everything."
To conclude the service, Carr's friends and family released 71 colorful balloons into the sky in his memory.
Mark Carr, Keith Carr's father, thanked everyone for the blessings and prayers he and his family have received in the past few months.
"No words can express my gratitude," he said. "For 21 years and 23 days I had the most beautiful and amazing son I could have asked for. Listen to your soul, trust your gut feelings and live in the moment – that was Keith."
Carr was a junior studying operations and supply chain management in the College of Business Administration. According to the university, he was frequently on the dean's list for his academic performance. While at Marquette, he was also a member of the Kappa Sigma Fraternity.
Leave a Comment