COLUMBUS, Ohio — Twelve years ago, Shaka Smart went from novice head coach to household name, leading upstart Virginia Commonwealth from the First Four to the Final Four.
"The way he talked, communicated and carried himself was unlike most other coaches," Dan Wetzel, Yahoo! Sports national columnist who covered Smart and the Rams' that season, said. "He was very unique."
A little over a decade later, Smart, 45, has returned to the big stage, leading Marquette to a Big East regular-season championship, winning the conference tournament and earning a No. 2 seed in the NCAA Tournament. The Golden Eagles face 15th-seeded Vermont at 1:45 p.m. CT on Friday in their opener at Nationwide Arena in Columbus, Ohio.
Smart's success starts with one of his core values, relationships.
"That's always been his deal," former Clemson guard Terrence Oglesby, who played for Smart at the Atlantic Coast Conference school, said. "He was the young assistant. Shaka was always the go-between with the coaches and the players. He would come by and he'd check on you. He's come to your dorm room and he'd come to your apartment. We lost that when he left to go to Florida."
Oglesby, who was recruited by Smart, said the coach built unique bonds with players. 
"There's people that are very good with players to get them on campus, it's rare that they keep that relationship that they had when they were recruiting," Oglesby said. "I'm not saying that's a good or bad thing, but it's a special thing when it comes to him."
Building a system 
After two seasons at Clemson, Smart left to be an assistant coach under Billy Donovan at the University of Florida during the 2008-09 season.
Smart's time in Gainesville was short lived as he was hired by VCU in March 2009.
VCU went 27-9 overall and finished fifth in the Colonial Athletic Conference in Smart's first year in Richmond.
A year later, Smart and the Rams created madness.
After falling to Old Dominion in the CAA championship game, VCU sneaked into the NCAA Tournament, with the First Four being newly created, as an at-large bid.
The run — which consisted of wins against USC, Georgetown, Purdue, Florida State, and No. 1-seeded Kansas — took the Rams from the First Four in Dayton to the Final Four in Houston, a first for the program.
11 years ago, Shaka Smart & @VCU_Hoops danced past 1-seed Kansas to the @MFinalFour 🕺 #MarchMadness pic.twitter.com/hk9JMjg3FA

— NCAA March Madness (@MarchMadnessMBB) March 27, 2022
"Sometimes you have a run by a school that isn't Duke or Kentucky and they got a guy who is like the No. 4 (overall) pick in the NBA Draft. That wasn't really the case," Wetzel said. "This wasn't because they got hot from outside or they had a lottery pick. It was like this is unique, they built a system and it's working."
Smart made a name for himself with his full-court "havoc" pressure defense that season.
Wetzel said it reminded him of former Arkansas coach Nolan Richardson's "40  Minutes of Hell" during the '80s and '90s.
"It was an overwhelming thing," Wetzel said. "This was, we're coming at you and we're going to make you not want to play us even though we are VCU and not an SEC or ACC team. … They had a lot of depth for a program that probably shouldn't or traditionally wouldn't."
Bringing the right people together 
Smart's successes earned him the head coaching job at Texas of the Big 12 Conference in 2015.
Smart's Longhorns appeared in three NCAA Tournaments in six seasons but never won a game in the Big Dance. The only postseason win for Smart in Austin came in the NIT Tournament in 2019 when Texas won it all.
The Texas job, which is considered a top 10 position in college basketball, comes with expectations of winning on the recruiting trail and the court.
Smart finished with a 109-86 record and one Big 12 Tournament title during his tenure in Austin.
Since joining Marquette in 2021, Smart has compiled a team that matches his personality and coaching style.
"His biggest strength as a coach and as a leader is that he can develop a program," Field of 68 Media Network's Rob Dauster said. "It's buzzwords and it's what everybody says, but he develops culture and chemistry and you need time to be able to do that.
"Being at a place (like Marquette) where you can build a program as opposed to building a team is everything that he needs and that's what he does great."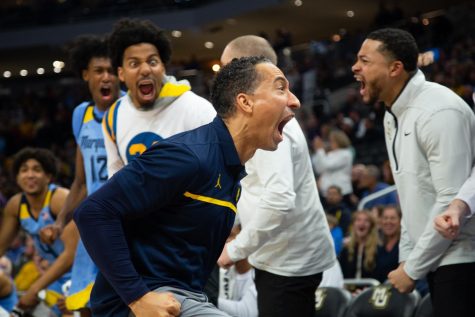 The marriage between Marquette and Smart has been idyllic.
"Couldn't be more perfect," Oglesby said. "He doesn't have to compete with football, he doesn't have to win the offseason. …. He (can) get guys that he can build on."
Smart's return to his home state and arrival at Marquette has allowed him to bring out his true self.
Whether it is slapping the floor or running down the bench to high five a walk-on after a kill or fist pumping after a win on the road, Smart isn't afraid to show emotion and passion.
"He lives the stuff he says," junior forward Oso Ighodaro said. "I feel like a lot of coaches can preach all this stuff and say all this stuff (but) he actually lives it every day. He's the ultimate competitor and you see it after games he's fist pumping. That's not fake, that's who he is."
Smart's leadership and authentic self has catapulted the team to a 28-6 record, 17-3 in the Big East and a No. 6 national ranking.
"Everything that we go through, whether it be the retreat we went on before the season, all the workouts in the summer, he's preaching his culture and he's showing us his leadership every single day," junior guard and Big East Most Valuable Player Tyler Kolek said. "(He's) trying to impart that on us and put it into our DNA because it's definitely in his DNA."
We value relationships! pic.twitter.com/SplA3REOr4

— Shaka Smart (@CoachShakaSmart) March 1, 2023
Marquette has evolved into one of the nation's more surprising teams this season. The Golden Eagles moved from 76th in the preseason rankings on KenPom to as high as the top 10. 
"Thinking that Shaka Smart this far into his tenure would have a team that ranked outside the Top 75 on KenPom and was the best offense in college basketball, I would've been like 'Nah that ain't happening' and he's done it," Dauster said.
"Finding a way to adapt what you do to succeed is what the best coaches in the world do. You got to give him credit for that."
Oglesby said Smart's ability to continuously adapt makes him unique.
"You look at his days back in VCU and that's havoc. Then he goes to Texas and has to win every offseason so he gets three McDonald's All-Americans a year," Oglesby said. "Then he comes to Marquette and he's got the best offense in college basketball. It's crazy how good he is and how versatile he is.
"We don't talk about it (versatility) enough when it comes to coaches and he's one of these guys that no matter what roster you give him, they're going to find a way to compete on a nightly basis to do what they need to do in order to win games in a league."
Marquette's offensive success this season hasn't come from Shaka changing his identity from defensive-minded to offensive. It's more capitalizing on the group he has.
"It's putting your guys in the best situation to succeed and that's exactly what he's doing," Dauster said. "It's what he did in 2011 when he made the Final Four."
Sophomore guard Kam Jones said Smart fosters a sense of independence in games.
"What makes our offense really good is we don't just come down and call and play every possession," Jones said. "He lets us just play free, play off of each other and lets our chemistry go to work."
Last night, the team joined the 1996-97 team as the only conference tournament champions in program history!#MUBB | #WeAreMarquette pic.twitter.com/V0ox9k8s3w

— Marquette Basketball (@MarquetteMBB) March 12, 2023
Smart said that trust has come from sideline experience.
"As a younger coach, I was a control freak and had to control everything and the reality is, if the players have an ownership and a say, they're able to drive some of the things you are doing culturally, offensively and defensively it is going to work better," Smart said.
In Year Two at Marquette, the Golden Eagles became the first team in Big East history to win the outright regular-season title and conference tournament title. They were picked to finish ninth in the league's preseason media poll.
Smart, the Big East Coach of the Year, is a strong candidate for National Coach of the Year.
"He brought us all together and we all got one message and he was able to do that in two years," assistant coach DeAndre Haynes said. "We tried to build our foundation that first year. This year here, we got the AD and the President smacking the floor at our St. John's game (in New York). We got fans talking about EGB's (energy generating behaviors) and getting kills. He's bringing the whole city and the whole state of Wisconsin all together.
"I was at a Bucks game not so long ago with (video coordinator) Dayshawn (Wells) and people behind us went 'Man I'm a Badger fan but now I'm a Marquette fan because of what they're doing here. And it all starts with him."
This article was written by John Leuzzi. He can be reached at [email protected] or on Twitter @JohnLeuzziMU.