Marquette's offense comes alive in second half against Georgetown
At times, it was unclear which of the teams was winless in conference play. The first half was not pretty. But much like its last three games, Marquette flipped the switch in the second half.
This time the switch came on the offensive end. Marquette scored 61 points — behind two extensive offensive runs and strong shooting from beyond the arc — in the second half alone to take down Georgetown 95-68 Saturday afternoon at Fiserv Forum.
"Thought in the first half, our guys did a lot of really good things but we were missing a little bit of the connective tissue that allows us to be great on the defensive end," head coach Shaka Smart said. "And therefore we didn't make them (Georgetown) miss enough, shot 54% from the field.
"And then on our offensive end, we didn't have as good of a shooting half shooting 42%. … I didn't think we played bad (in the first half), thought we needed to ramp it up in some areas and the guys did that in the second half."
With the win, Marquette (13-4, 5-1 Big East) has taken seven of its last eight contests and have won a season-high four straight.
The Hoyas (5-12, 0-6 Big East) have now lost a Big East record 26 straight.
Statistical Leaders:
Sophomore guard Kam Jones led the Golden Eagles with a team-high 17 points, five rebounds, four assists and two steals.
Three other Golden Eagles scored in double figures — junior forward Oso Ighodaro added 14 points, sophomore guard Stevie Mitchell contributed 12 points and first-year guard Chase Ross finished with 10 points.
Junior guard Tyler Kolek, who entered the afternoon leading the Big East in assists, was a wizard on the floor for the Golden Eagles.
The Cumberland, Rhode Island, native dished out a career-high 15 assists — which is two short of Tony Miller's program record of 17, while also recording a career-high four assist, seven points and three rebounds. Kolek now has 39 assists over the last three games.
"He's a unique player in that his understanding of the game and what's going to happen before it happens is really advanced for his age," Smart said to the Fox Sports Postgame Show. "He does a great job understanding where our guys are going to be and then finding them.
"He had seven, eight assists at halftime and we weren't even making any shots so if we shoot the ball a little bit better (in the first half), I think he might have gotten the school record tonight. But more importantly, I think the way that he played to make others better is just contagious for our team."
Kolek now has 39 assists over the last four games.
"It's just the empowerment from my coaches," Kolek said. "To have an assist, guys have to hit shots so they have done a great job helping me help them."
Up and down first half 
Ighodaro scored six of Marquette's first 10 points of the night, all coming in the opening five minutes.
Georgetown then responded with a 9-0 run to take a 21-14 lead that was erased as a transition layup and a 3-pointer from Mitchell out of the under-12 media timeout tied the game at 21-21.
Sophomore Sean Jones hit a 3-pointer to tie the game at 28-28 with 4:35 to go until halftime. Prior to Jones' 3-pointer, the Golden Eagles were 1-for-11 from beyond the arc.
The Hoyas then grabbed back the lead at 32-28 after sophomore guard Jordan Riley hit a contested 3-pointer while drawing the foul. Riley would sink the free-throw on the AND-one opportunity.
Georgetown went into the locker room with a 36-34 advantage after sophomore guard Primo Spears hit the buzzer beater jumper over Ighodaro. Spears finished with 18 points.
Flicking on the switch again
After struggling in the first half offensively, Marquette came out in the second half on an 11-2 run to take an 45-38 lead forcing Georgetown to call a timeout.
Another difference between the halves for Smart's squad came beyond the arc. Compared to the first half, where it went 2-for-14 from deep, Marquette hit six of its first 10 shots from beyond the arc to open the second half.
"Really excited with how the way the guys came out of halftime and put it all together in terms of what we were trying to do on the defensive end and offensive end," Smart said to the media in Milwaukee.
First-year forward Ben Gold put together a 5-0 personal run around the midway point of the half giving Marquette a 64-55 lead when he worked the baseline for a dunk before hitting a 3-pointer off the pass from Mitchell.
Gold finished with eight points, three rebounds and two blocks.
"Thought this was Ben's best game all year just the way he rebounded and defended," Kolek said.
The Golden Eagles lead extended to 73-55 after Ross connected on a 3-pointer during a 14-0 run forcing Hoyas head coach Patrick Ewing to call another timeout. It is the second time this season that Ross has finished with 10 or more points.
Marquette then went into cruise control. Sophomore Keeyan Itejere, who saw his first minutes since the Golden Eagles Big East opener Dec. 16 against Creighton, slammed one home with just over two minutes to go.
With Itejere's basket, every available scholarship player scored in the 98-58 blowout win.
Up next 
Marquette is back at Fiserv Forum to host No. 4 UConn (15-2, 4-2 Big East) Wednesday. Tip-off is scheduled for 6 p.m. CST on CBS Sports Network.
The Huskies have taken each of the last four games against the Golden Eagles.
This article was written by John Leuzzi. He can be reached at [email protected] or on Twitter @JohnLeuzziMU.
Leave a Comment
About the Contributor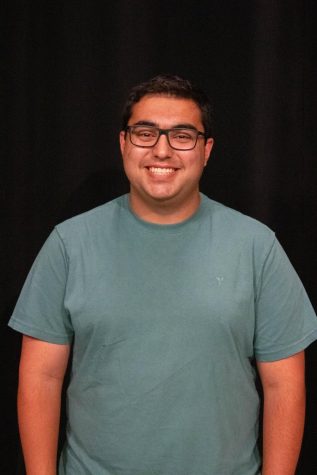 John Leuzzi, Executive Sports Editor
John Leuzzi is the Executive Sports Editor for the Marquette Wire. He is a senior from Mount Laurel, New Jersey, majoring in journalism and minoring in...