JOURNAL: Editor's Note
Dear Reader,
We often hear people say "live life to the fullest" or "live your best life," but what does that sentiment really mean? When I think about life and the experiences I have had thus far, it would be naive of me to say that I have counted every moment, every memory for all that it was worth — when in reality, I've made my fair share of bad calls, seen more than a few shades of gray.
I am reminded of an experience that I had a couple of months back. I was driving down I-94 on my way back to Milwaukee after a weekend at home when an old RV, probably a late '90s model, passed me on my right-hand side. It was a dirty, dusty white and as it passed, I noticed its back spare tire cover read "live a great life."
The vinyl cover was tattered and worn, like it had been many places, exposed to thousands of miles of the open road and the elements of mother nature, but still the notion of "live a great life" stood prominent in bold black letters.
We continued down the road for another five miles or so before the RV veered off on an exit, probably on its way to its next great destination, and I made it back to Milwaukee not really giving it too much thought.
Looking back now, I see this story as a poetic metaphor for life.
When you're driving down the expressway, everyone is headed toward a different destination, a different experience. The makes and models of cars, the colors of their paint, whether you follow or pass other drivers, is in a way synonymous with the different people you meet every day; they either stay with you for the entirety of the ride, or exit when the time is right.
Put simply, "living a great life" doesn't necessarily mean that everything is going to be happy all the time; things break down, you get stuck in emotional traffic and things happen that are out of your control. Life happens when you least expect it, but it's the growth that comes from those moments of hardship that create the kaleidoscope of human existence.
And to me, that is what "Life in Color" symbolizes.
This issue of the Journal is a collection of stories that reflects the lives of the Marquette community and the university as a whole. Each experience that we have, the personal stories of growth and change, our highest highs and lowest lows shape every shade of who we are as individuals, as a community and as a society.
"Life in Color" chronicles the lives of individuals around campus as more than who they appear to be on the surface. Stories focus on the importance of empathy in the ever-changing state of the world and the realization that individuality is an essential piece to creating a world of understanding and balance.
We live in a world that is being swallowed up by gray with every minute that passes, and isn't it about time that changes? The world we should be striving for is one where every laugh, every cry, every stumble and every moment of confident pride is welcomed and accepted by those around us.
To the Marquette Wire staff: You have no idea how proud I am of you all. The work that you have done and the time that you have devoted to making "Life in Color" a reality is something that I will cherish for the rest of my life. I am continually amazed by you all and am blessed to work beside you. Thank you.
I would like to end by saying that the colors of our experience — of our individuality — are too important to let fade. My hope, as you read these stories, is that you come to see that yellow or blue, red or green, black or white, we are all a part of each other's experience in this life, so let's make it a great one.
Sincerely,
Leave a Comment
About the Contributor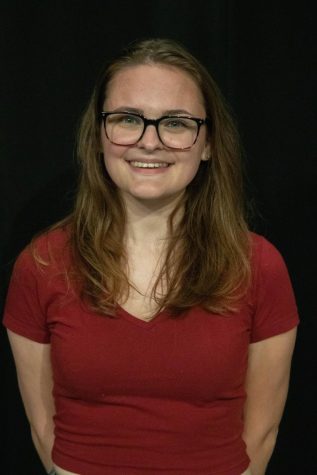 Kimberly Cook, Managing Editor of the Marquette Journal
Kimberly is the Managing Editor of the Marquette Journal at the Wire. She is a senior from Cary, IL studying journalism and English literature and minoring...