"You got this."
Three simple words, but to 18-year-old me standing in my dorm room, they were a huge comfort. Nervous and alone and away from my family, the only thing that I could do was convince myself things would be okay.
Four years later and I still find myself catching my reflection and telling myself those words occasionally.
My Marquette journey has been a roller coaster of ups and downs. I've had moments where I feel on top of the world followed by some of the most full-body breakdowns at 3 a.m.
First-year me was honestly a nightmare. Like, bestie, spending every night in the library until 4 a.m. every night when you have 9 a.m. philosophy class is not only bad for your sleep but also your skin. Luckily, I eventually got out of this habit after becoming a member of my sorority along with being a host for Marquette Lately.
While I don't miss the chaos of my first year at Marquette, I do miss her energy. I mean how else could she get no sleep and still slay the game academically and professionally? (Plus she got a quote retweet from Rondell Sheridan – Raven Baxter's dad for those who don't know – so … jealous).
Sophomore year was a lot better because I finally had a decent handle on my schedule. Woo! I was working again at MUTV as a host, planning events with my sorority, and working it out in my classes! Just as my sisters and I were about to plan our annual formal something huge happened.
COVID-19! Yay. So, post-spring break I ended up staying home and had to rush to get all my stuff out of Carpenter Tower: my home for two wonderful years – it was a big RIP for me. I won't touch on this because let's be real, we do NOT need to relive that flop era.
Moving on to when I finally got my own apartment in my junior year, I learned a lot about myself by living alone. I learned I like to have full on conversations with myself constantly, change my furniture at 3 a.m. at LEAST once a month, and having full on performances spontaneously.
All in all, this was a pretty great year for me. I got to self-reflect, work as an executive producer, and be somewhat back with my besties. She was a baddie year and I do miss her deeply…
And now a senior. Oh boy. I've had so many wonderful things happen this year. I was hired as the first Editor of Diversity and Inclusion, I spoke on a Diversity and Inclusion panel, I went to San Juan, Puerto Rico for the Diederich Experience, and I had a sorority formal again for the first time since 2019. It's actually been so crazy. I can't believe it's all real.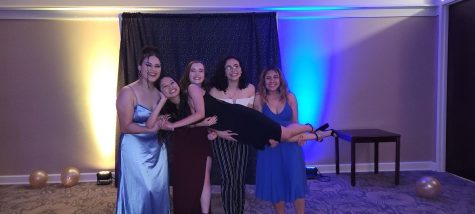 Everyone keeps telling me how the time went by so fast. For me it didn't. Every moment felt like it had it's time to shine and I could take it in. But I won't lie, I do miss the little moments.
Thank you to every single person who made my Marquette journey special. Without y'all I wouldn't be nearly as hot and successful as I am now.
I don't know what the future will hold for me, but I know one thing: I've got this.
This story was written by Alex Rivera Grant. She can be reached at [email protected]