@Marquette_Affirmations manifests intrigue on campus
Everyday as I scroll through my Instagram stories, I see one common thread; @Marquette_Affirmations posts being reposted by fellow students. 
There have been many student-run Marquette Instagram accounts that have faded into the background and didn't quite hit the mark. Some examples include accounts such as, Marquette Couples and Marquette Redheads. However, Marquette Affirmations has become widely relevant on campus, with 1,841 followers in just the last four and a half months.
The anonymous messages account posts "daily affirmations for golden eagles fans," says the account bio.
The account brings a light-hearted energy that may be needed due to the stressors of a college campus. With their submissions open to everyone, they also interact with people on campus who voice their own manifestations on a daily basis.
Doe provides commentary on everything from Marquette basketball to dorm life, dining hall food and the life of a Marquette student, while at times even criticizing the administration.
In one post, @Marquette_Affirmations shared "Campus Safety is not an Oxymoron."
View this post on Instagram
It also provides a digital landscape for students to bond over shared experiences and opinions while staying humorous and light-hearted.
Yet, conversations surrounding the owner of the account swirl around campus. Many students directly message the account to attempt to discover the person behind the magic. 
As Disney Channel icon Hannah Montana said, "You get the best of both worlds," which is exactly what the person behind Marquette Affirmations has. You may be sitting next to the campus celebrity in class or in the line at the Brew together and not even know that you are mere feet away from a campus superstar! 
"Someone was like 'this person is most likely an honors student and lives in this building' and I was like it's really weird that they are trying to consider this," Doe said.
Students have tried to figure out the identity behind the account by attempting to match clubs or majors that the account frequently posts to the owner. 
"A couple people have been trying with specific niche posts determine different sub-communities I am in on campus to try and piece together what clubs I am personally in to figure out who I am," Doe said.
However, these are all baseless predictions because the owner has not revealed anything on their account about their own identity and is selective about who they tell their secret. 
It all started when one of Doe's friends sent them other universities' affirmations accounts. In turn, they decided to follow the trend and made one for Marquette.
"My best friend from high school goes to the University of Southern California and she sent me their affirmations page, so I decided to post one randomly on a lunch break between classes," Doe said. 
That's when history was made.

It was almost like the shot heard all around the world when Marquette finally got an affirmations page. Slowly but surely, the account grew into the phenomenon that it is today with word of mouth traveling around campus and lots of daily posts.
"A lot of my friends were the ones who helped me get it off the ground," they said.
Four and a half months later, it's still weird to hear fellow students talking about their page, Doe said. Doe just has to keep it to their self to conceal their true identity.
"It is definitely still surprising that people are interested in it and actually look at what I am posting," they said.
Doe believes they made the right choice to stay anonymous. 
"A lot of the other affirmations accounts that I have seen are also a secret and it's probably best if people do not know it is me because I feel like I would be embarrassed if more people knew," they said.
Despite keeping their double life a secret, that does not mean that Doe's close friends do not know. In "Hannah Montana" terms you could say their friends are the real-life Lily and Oliver. 
Seeing other people share Marquette Affirmations' posts to their own stories is one of the best parts of running the account, Doe said.
"I can see when other people repost my post to their stories and … seeing how the Marquette community is interacting with my content is really cool to see," they said.
Doe said they receive lots of "niche" messages from students about dorm life, such as "the underwear stealing in Schroeder last night, that was a little interesting," Doe said.
The widespread interest in Marquette Affirmations does not stop there, though. Doe posts many times a day, showing the influx of submissions has only grown as the popularity of the account catches on. 
Students may have their own favorite posts, but what about Doe's?
"I really like the Greg Elliott post about how he is the best player on the team. I have big respect for him," they said.
View this post on Instagram
But Doe never thought the account would gain so much attention or the following that it has.
Looking toward the future, the owner does not have a clear follower goal, but they do think it would be "cool to hit two thousand, but whatever happens happens," Doe said. They're excited to see the account continue to grow.
Will they hit two thousand followers? Will they reveal their identity to the world? Will Greg Elliott notice Marquette Affirmations? We are not exactly sure, but we are for sure manifesting it into the world.
This story was written by Patrick Curran. He can be reached at [email protected]
Leave a Comment
About the Contributor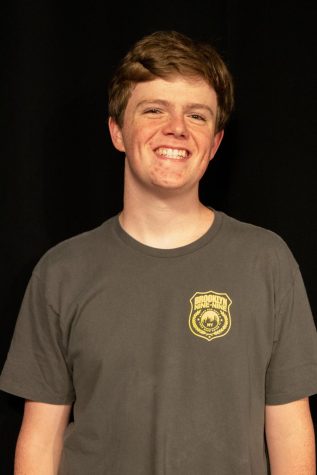 Patrick Curran, MUTV Executive Arts & Entertainment Producer
Patrick is the Executive Entertainment Producer at the Wire. He is a junior from Wilmette, IL studying digital media and minoring in public relations

In...