A City of Cultural Festivals
Every summer, Milwaukee dons the title "city of festivals" as a dozen different cultural festivals are held in the city to celebrate heritages. Ranging from all ends of the globe, each festival is unique. A few are listed below:
Polish Fest was created in 1982 by the Polish Heritage Alliance Inc. with the purpose of preserving the culture and traditions of Poland. Polish Fest is meant to showcase the country's arts, tradition and culture. 
Clarice Michalski, a senior in the College of Health Sciences, has been attending Polish Fest since she was a baby. Her grandparents are from Poland and her dad is 100% Polish, so she says she grew up celebrating some of their cultural traditions.
Along with attending Polish Fest every year, Michalski says she performs Polish dances at the festival as part of a group called Syrena.
"I got involved with Polish dancing when I was pretty young … it's a folk dance and it's usually counted in threes," Michalski says.
Michalski says her favorite part about Polish Fest is having multiple performances in a day with quick costume changes in between. She also likes going around to the different booths set up. Besides live dancing performances, the festival has live bands as well as food stands with Polish cuisine like pierogis and kielbasa. There are also booths selling items like Polish jewelry and Polish dishware.
This year the festival is scheduled for June 11-13. Tickets and prices can be found on their website.
German Fest began in 1981 and is held at the Summerfest grounds every summer. Each summer, the grounds brim with German heritage from live authentic bands to authentic food such as goulash, a stew made of meat and vegetables. Deb Wolf, director of advertising and promotion, has been involved in the festival since she was 14 years old and worked in the festival's office.
"My family's been heavily involved with the German community and German fest … my dad is from Austria and my mom's from Germany … my dad was very much into wanting to keep the heritage and the culture alive and share it with everybody," Wolf says.
German Fest has a plethora of activities during the festival, including the German Fest Battle of the Mascots in which different Wisconsin mascots scrimmage in a soccer game and the Dachshund Derby and Weiner Dog Costume Contest in which dachshunds race and then are judged based on their costumes. The festival also has plenty of German foods, such as strudel, which is a pastry, and spanferkel, which is a roasted whole pig.
"Milwaukee was built on a lot of German foundation … I think that resonates … because we're based on the volunteers, we all have grown up with each other and we all know each other in some way shape or form," Wolf says. "We're a very close community."
Sadly, German Fest was canceled this year due to the pandemic. It was originally scheduled be July 30 to Aug. 1. On years it is held, general admission for adults is $15 and the student price is $7. 
Mexican Fiesta is a Milwaukee summer festival that brings the culture, sound and taste of Mexico to the city. It is typically held at the Henry Maier Festival Park. The festival started in 1973 to celebrate Mexican Independence Day, which is celebrated annually Sept. 16. Mexican Fiesta is sponsored by the Wisconsin Hispanic Scholarship Foundation, Inc., with the goal of bringing together a community in an effort to award scholarships for young Hispanic men and women. The festival contains many different vendors. In 2019, it had a Fiesta Car & Motorcycle Show that featured classic/lowrider cars as well as motorcycles.
Mexican Fiesta is set to be held in person Aug. 27-29, 2021. General admission price is $18.
Bastille Days is a popular French festival held in Milwaukee's Cathedral Square that began in the 1980s. The festival is four days long and free. It is filled with live music, French and Cajun food, as well as a mini-Eiffel tower replica that has an hourly light show. It is typically held in early July with past dates being July 10-13. It is unclear if it is being held this year as their website does not have any dates posted.
Festival Italiana was the first ethnic festival in Milwaukee and started about 40 years ago. It takes place at the Henry Maier Festival Park. The Festa Italiana has fun attractions like gondolas and cultural exhibits. It also features Italian food such as pasta and fried eggplant strips. Angie Scavone, a 2019 College of Education alum, has attended Festival Italiana in the past. She first attended the summer going into her senior year of college just after she studied abroad in Italy.
Scavone herself has Italian roots.
"(We're) Sicilian on my mom's side … my grandpa was born in Sicily," Scavone says. "My grandma isn't Italian but she knows all the recipes."
After experiencing Festival Italiana for the first time, Scavone brought her mom and grandma the next year.
"I think it's really cool to see people who are really proud of their heritage. It's very fun to see people in their element," Scavone says.
Festa Italiana announced it will not be occurring this summer due to the pandemic. It was held from July 19-21 in 2019.
Though it is canceled, tickets could typically be purchased at the entry gate for $13.
Irish Fest is one of the other large cultural festivals held in Milwaukee. It holds many different Irish cultural staples such as live band performances, dancing and food. It takes place at Henry Maier Festival Park.
Sarah Jablonowski, a 2020 College of Nursing alum, says she enjoys attending Irish Fest with her family. Jablonowski has even performed with her Irish dance group at the festival.
"Me and my family have our certain traditions that make it special … we love the baked potatoes and then we would sit down and listen to different bands and musicians … there's a lot to do and there's a lot of different options," Jablonowski says.
Along with dancing and live music, the festival has Irish foods such as bangers and mash, which is sausages served with mashed potatoes and gravy, as well as shepherd's pie, which consists of ground meat with a crust of mashed potatoes. They also have activities like learning about the Irish sport of hurling and a canine area where you can learn about all nine of the Irish dog breeds, and meet a few of them.
This year's festival is set to take place the third weekend of August. Tickets are not yet for sale.
Though these are just a handful festivals that occur during the summer, there are also a few others such the Milwaukee Highland games in June celebrating Scottish culture, the Milwaukee Dragon Boat Festival celebrating Chinese culture in July and Bronzeville Week celebrating African American culture in August. 
This story was written by Ariana Madson. She can be reached at [email protected]
Leave a Comment
About the Contributor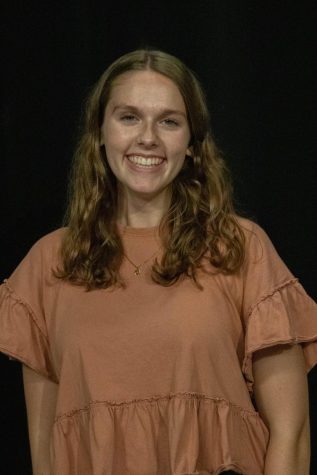 Isabel Bonebrake, Chief Photographer
Isabel is the Chief Photographer for the Marquette Wire and oversees the photo desk. She is a junior from Frankfort, IL majoring in journalism and minoring...