The Bro-Yo Breakdown
Though most students dread the freshman 15, a good, old, greasy, American-style meal is needed every now and then.  BroYo Campustown, located on W. Wells Street, is an iconic breakfast dive known for its huge portions and affordable prices. If you're looking for a cute brunch restaurant with healthy options, continue downtown, but if you're interested in trying a staple on Marquette's campus, read on to learn about their specialties.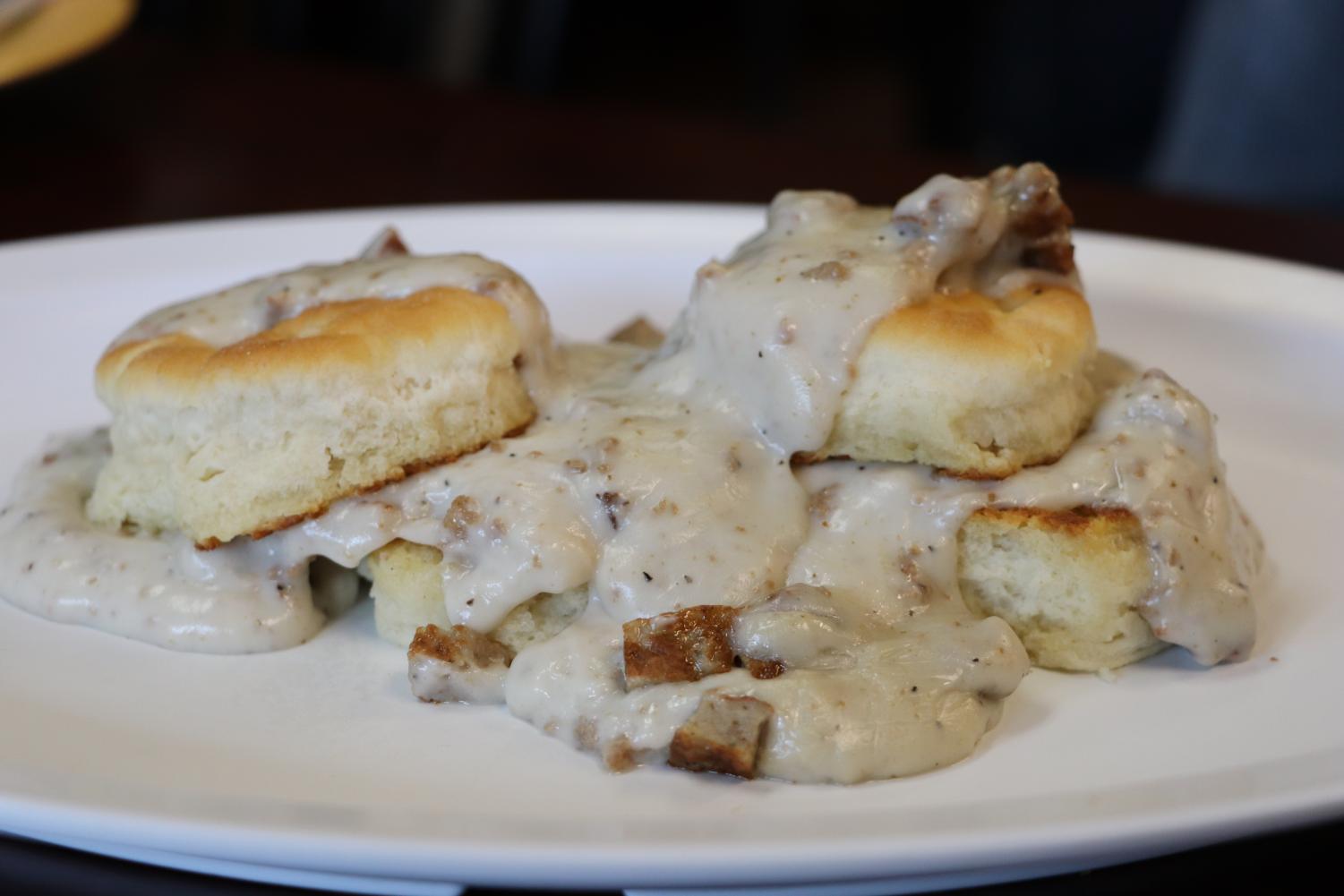 Biscuits and gravy (half order)
Price: $3.95
Rating: 4 stars
After sampling one bite of BroYo's buttery biscuits, anyone's taste buds would believe they were at home enjoying Thanksgiving dinner with the family. For many students, BroYo is a home away from home. The appeal of home-cooked, American food is what makes many Marquette students enjoy eating at BroYo. Students can enjoy large portions, hearty meals and practically hear their grandmas urging them to clear their plates even though their stomachs are filled to the brim. BroYo's biscuits are one of its most popular items. They can be ordered as a half or full order, and they are very affordable for college spenders. The biscuits are fluffy, moist and drenched in smooth gravy without being soggy. The gravy is thick and the sausage bits inside are not sparse. Though I ordered a half order, it was still a large portion — big enough to feed me and another person. The biscuits and gravy are not gourmet, but they are home-cooked and perfect for someone craving a satisfying and filling meal.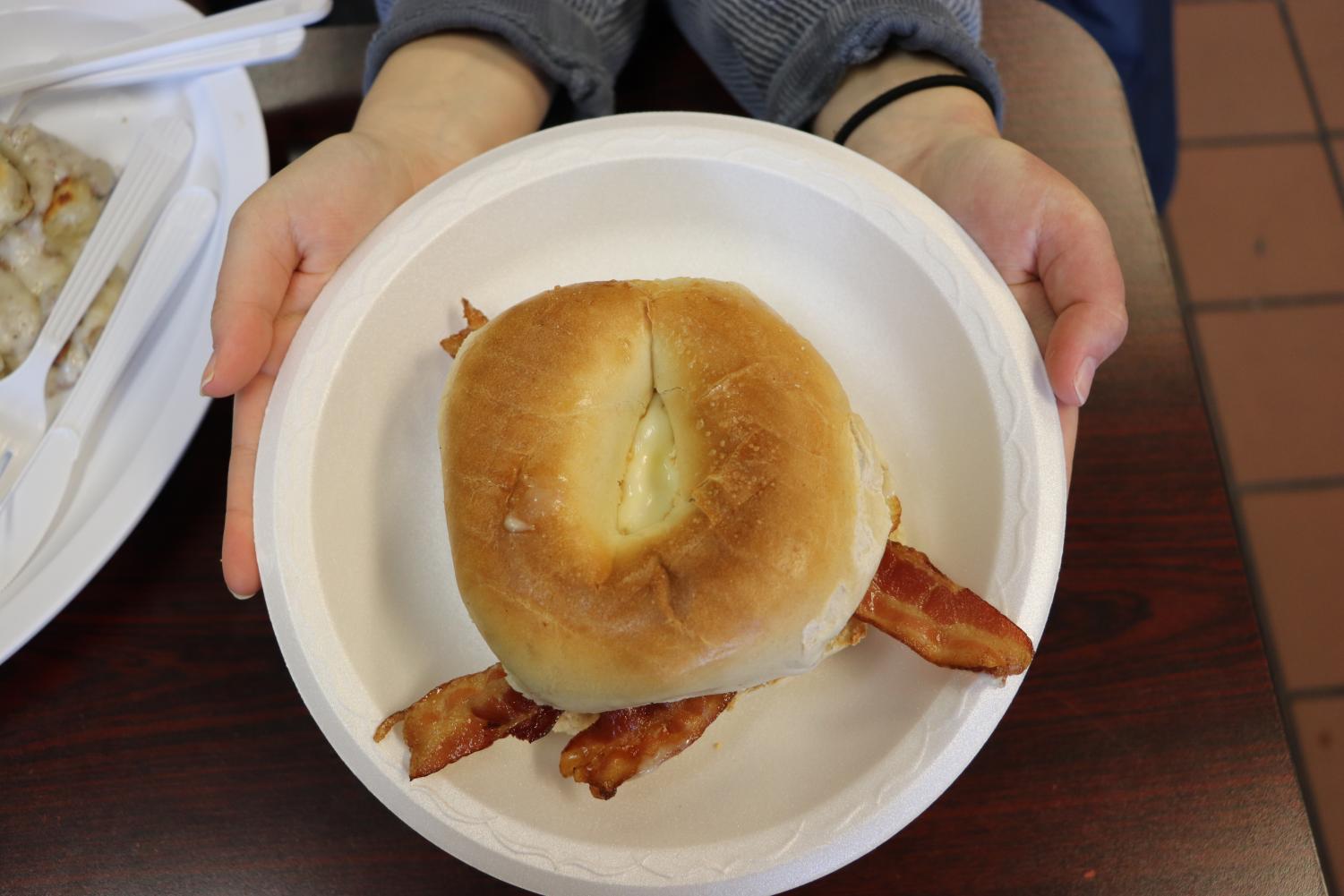 Egg, cheese and meat sandwich
Price: $4.95
Rating: 4 stars
For a quick, on-the-go breakfast item, the egg, cheese and meat sandwich is the perfect way to start a busy day. At an affordable price, the sandwich is packed with hearty ingredients and melted together with cheese, so nothing will fall out on a speedy dash to class. Though it is a basic, no-frills item, the sandwich allows for personal customization and a wide variety of toppings. Customers can choose to have bacon, sausage, ham, steak, turkey, chicken, Canadian bacon or corned beef hash as their meat. Customers can also choose to have their sandwich on their choice of toast, English muffin, bagel or pay an extra dollar to have it on a croissant, sub roll or wrap. I ordered a bagel sandwich with egg, bacon and provolone cheese. There is light butter on the doughy bagel which adds to the flavors created by the crisp bacon and scrambled eggs. Pieces of bacon peeking out of the side of the sandwich are thick and heavy, so I knew that it would be filling. Overall the egg, cheese and meat sandwich is a great item to choose if you are looking for a simple snack to start the day.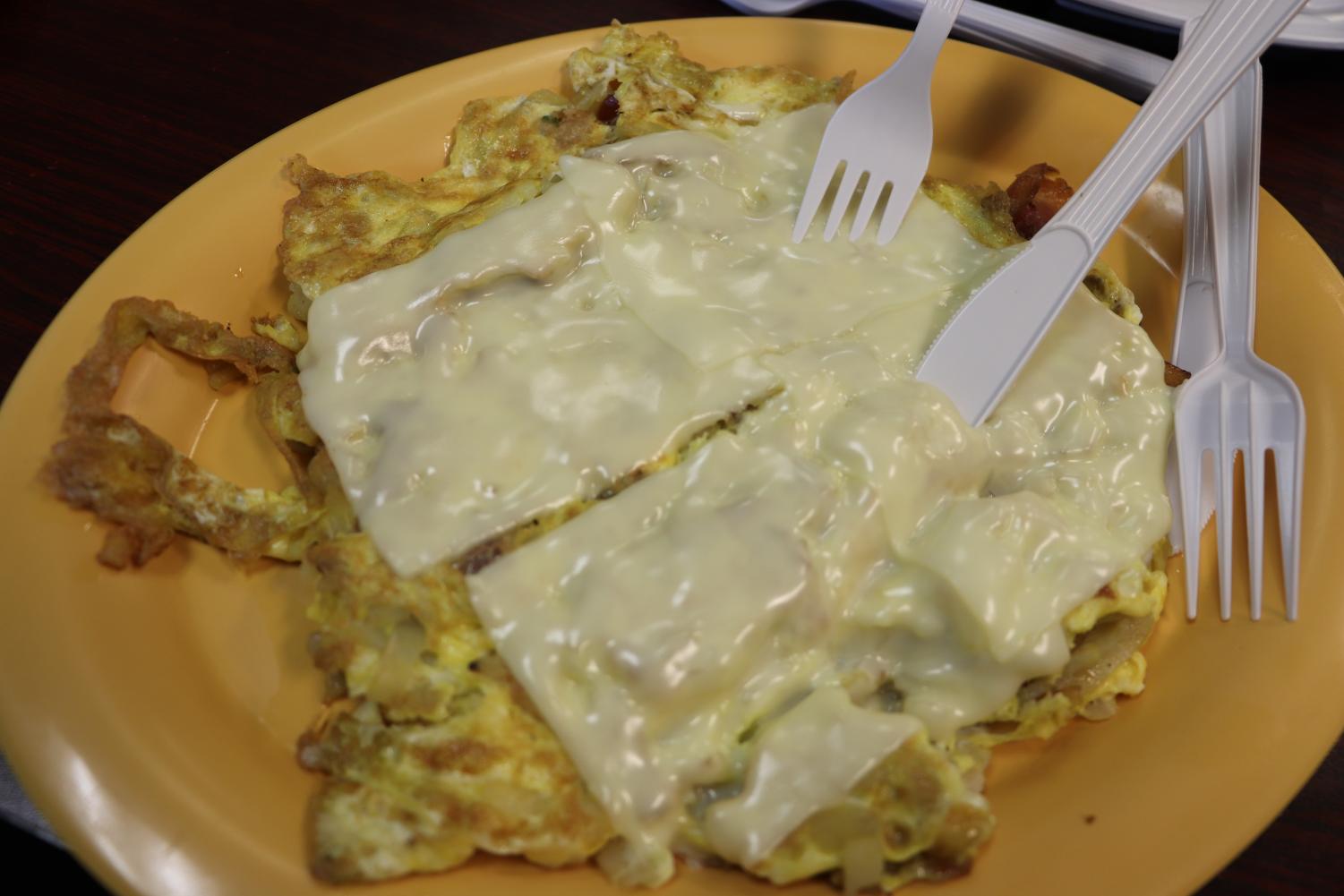 BroYo skillet
Price: $7.95
Rating: 3.5 stars
A popular choice and a featured $7.95 combo item, the BroYo skillet is unlike anything else on the menu. Resembling a less fancy frittata or quiche, the skillet is a mix of scrambled eggs, hash browns and a choice of meat layered in cheese. I ordered it with provolone cheese and bacon. It came out of the oven hot, appearing as if the cheese was melted on it only seconds before. Separately, the hash browns are rich and tasty, the bacon is strong and has a good consistency and the eggs are chewy. But together, the flavors are even more developed. Because the eggs, cheese, hash browns, meat and cheese are layered, you can taste each ingredient in one bite. The BroYo skillet is the perfect item for someone looking to eat eggs, meat and hash browns without worrying about extra carbs from toast or pancakes. Though it may look unappetizing at first, I would encourage giving the BroYo skillet a try!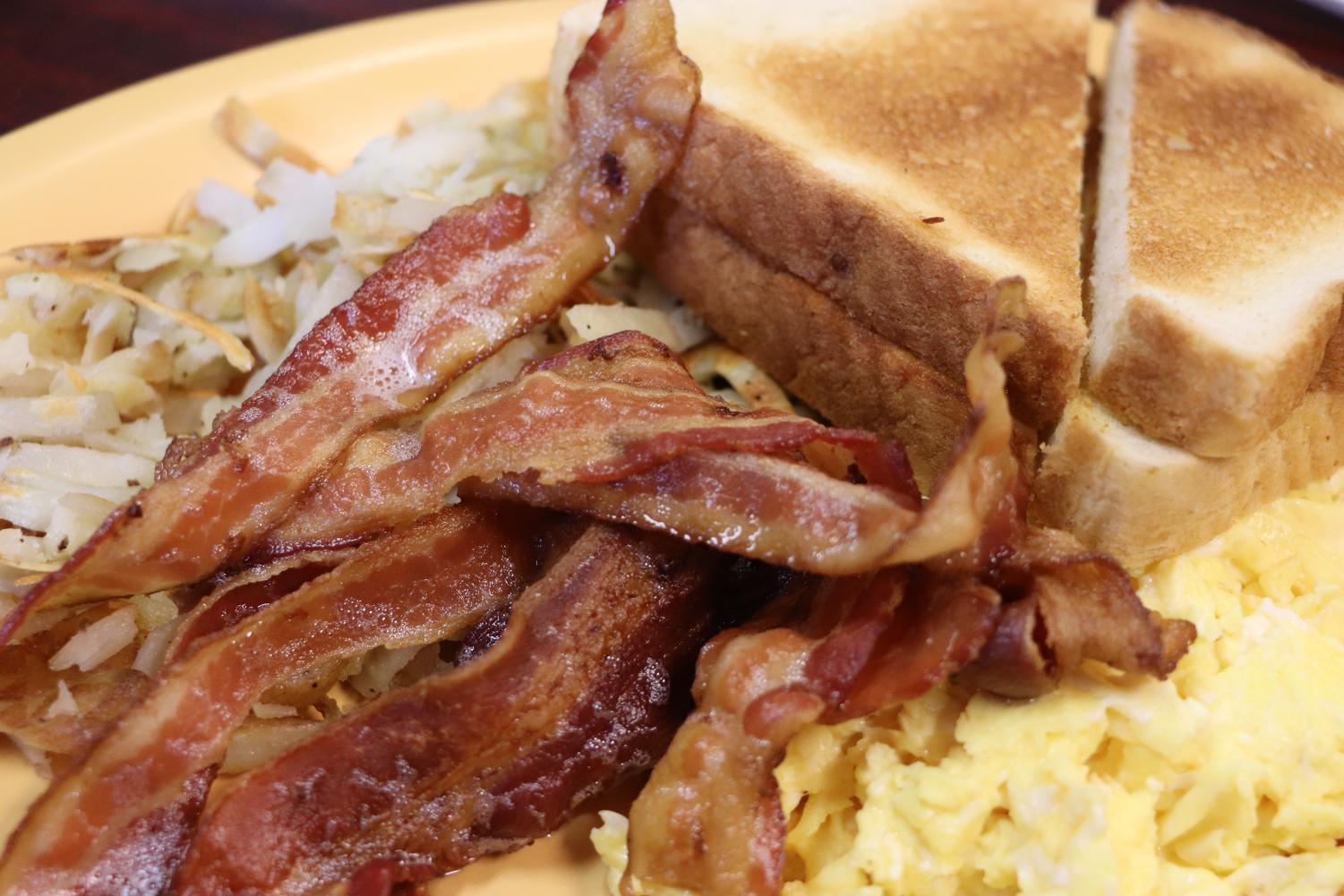 The Hungry Yolk Breakfast Buffet
Price: $10.95
Rating: 5 stars
If you are looking for a way to feed a small family or just satisfy a very rumbling tummy, the Hungry Yolk Breakfast Buffet offers nearly every item on the menu at one reasonable price. It's so much food that they need to serve it on two plates! This BroYo specialty offers three eggs, hash browns, a choice of meat, a choice of a bagel with cream cheese or toast, and a choice of two pancakes or two pieces of French toast. I ordered scrambled eggs with hash browns, bacon, toast and French toast. I was an ambitious eater when I ordered this, but — spoiler alert — I did not finish my plate. Because of the large servings, be prepared to take home some leftovers!
One of my favorite items on BroYo's menu is the thick, flavorful French toast, which has the perfect butter to cinnamon sugar ratio. They also have just enough syrup on them without being soggy. Side note, if you order the French toast or pancakes off the menu, you can add a variety of toppings, including M&Ms, peanut butter and jelly, and hot apples. The sweet French toast is a carefully crafted complement to the salty bacon, hash browns and eggs. The bacon achieves the perfect crispy texture without being too chewy or too burnt. The hash browns are thick and not skimpy, but they do get cold easily, so I would eat them first before filling up on other items. The eggs are bright yellow and very fluffy. Though my stomach instantly filled, I wished that the Hungry Yolk Breakfast Buffet was served with a side of fruit. After eating this meal, I craved an apple or clementine to cleanse my stomach of the greasiness.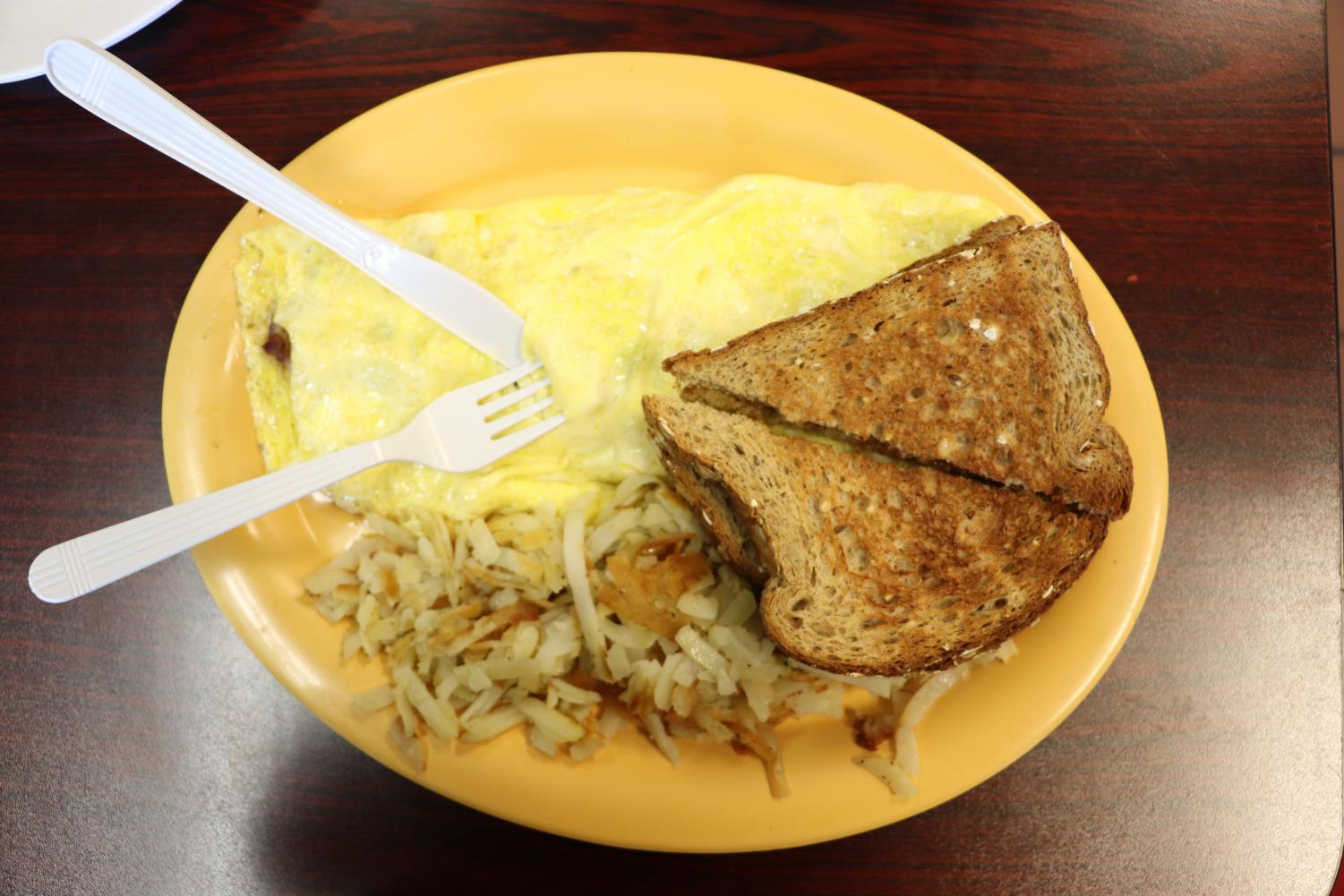 Sausage and cheese omelette
Price: $9.95
Rating: 3 stars
With a menu of multiple omelettes, I decided to play it safe and order a sausage and cheese omelette. Immediately, I regretted it. It's not that it isn't a good omelette; the eggs are light and fluffy and it's packed with sausage bits, but it feels like it is lacking. I wish that I would have added vegetables to the omelette for more substance, or chosen one of BroYo's specialty omelettes off the menu. I am certain BroYo has some five star omelettes on its specialty menu for only a dollar more than its basic omelettes. Nonetheless, the omelette is served with toast and hash browns which are both very impressive. The hash browns are peppery and thick, while the toast is fluffy, coated in butter and served with an assortment of Smuckers jams. Without jelly the toast is really good, but with jelly it is even better. Overall, I would suggest to branch out and try a specialty omelette at BroYo.
Leave a Comment