In-state foe No. 6 Wisconsin dominates No. 21 Marquette volleyball
There was plenty of anticipation entering No. 21 Marquette's match Friday evening against the No. 6 Wisconsin Badgers, the program's first sellout at the Al McGuire Center. However, the Golden Eagles hardly lived up to the hype, losing in three sets (25-23, 25-14, 25-15).
Besides an early 8-5 Marquette lead, the majority of the first set was neck-and-neck, with neither team gaining more than a two-point lead. A pair of Hope Werch kills combined with a Badger attack error gave the Golden Eagles an eventual 23-20 lead late in the first set. However, Wisconsin won five consecutive points to clinch the first set 25-23.
"We started off playing pretty well. I thought we hung in there," Marquette volleyball head coach Ryan Theis said. "It was about 46 volleys, but we needed about 48."
Both teams struggled to find any offensive rhythm, posting hitting percentages lower than 0.200 in the first set. Wisconsin had a more efficient defense than Marquette in the set, holding a 5-2 advantage in team blocks.
All the momentum remained with Wisconsin in the second set. The Badgers quickly grabbed a 22-10 lead. Even after battling back within nine, the Golden Eagles could not break the Badgers' energy. Wisconsin won the set 25-14. The Golden Eagles had an abysmal 0.059 hitting percentage in the set.
"I just didn't think we held our level of consistent touches," Theis said. "They're too good to miss one of the touches. If you miss a set by six inches and can't get a big swing, that's not enough pressure on them and they come back and don't make that same miss."
The third set was much of the same Wisconsin dominance. Despite a net violation and many miscommunications between players, the Golden Eagles eventually battled back to 14-10. The Badgers proved to be too strong, taking the third set 25-15.
Wisconsin's Madison Duello posed problems for Marquette's defense with a match-high 14 kills, teammate Grace Loberg added nine and Dana Rettke posted eight. Sydney Hilley led with 35 assists.
Junior Allie Barber led the Golden Eagles with 11 kills. Redshirt senior Jenna Rosenthal and junior Madeline Mosher each added six kills as well. Sophomore Sarah Rose recorded a match-high 17 digs.
Though Marquette lost a 3-0 heartbreaker to their rivals (25-23, 25-14, 25-15), the team won't have much time to think about the loss, playing Tulsa and Illinois State tomorrow in a doubleheader.
"Tomorrow is pretty important for us," Theis said. "We get a chance to end the preseason at 9-3 or 7-5, so we want to make sure we're on the upside of that."
Leave a Comment
About the Contributor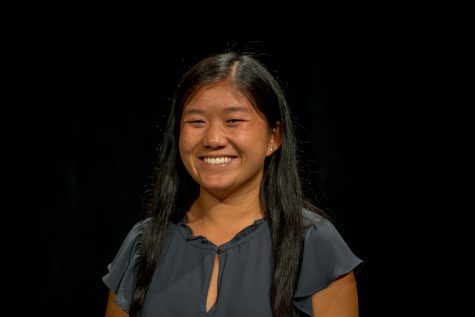 Zoe Comerford, Executive Sports Editor
Zoe Comerford is the Executive Sports Editor for the Marquette Wire. She is a senior from Naperville, Illinois, majoring in Journalism and Digital Media...