In fall 2008, tenured theology professor Daniel Maguire published an article in the National Education Association's journal "Thought and Action" advocating for a union for adjunct faculty at Marquette. Nearly a decade later, a union has not been formed.
Adjunct professors, also referred to as "part-time" or "non-tenure-track" professors, are university professors hired primarily to teach, according to the AAUP. While some are working professionals that only teach a course or two, many adjunct professors teach a greater number of classes than tenured or tenure-track professors, who are often referred to as "regular faculty."
Nearly 63 percent of Marquette faculty are not on a tenure track, according to the Office of Institutional Research and Analysis. This percentage has increased by almost 2 percent since 2016, the largest increase in Marquette's non-tenure-track faculty since 2008. 
Non-tenure-track positions currently represent over 70 percent of American higher education staff, according to the American Association of University Professors.
Adjunct professors are also not expected to do research or departmental service, John Mullins, a tenure-track professor in the history department, said.
However, adjunct faculty are not paid as much as full-time professors and often receive limited or no benefits such as insurance and retirement plans. Maguire said the difference in pay grade between regular and adjunct faculty creates an environment of "haves" and "have-nots."
Adjunct professors typically earn annual salaries between $20,000 and $25,000, according to a 2013 report by NPR. Tenured faculty, on the other hand, make approximately $114,000 per year, according to Glassdoor.
"It's an intrinsically unjust system, and it makes a mockery of repeated efforts by the administration to speak about the Marquette 'community,'" Maguire said. "It's not a community. It's an oligarchy."
Gary Meyer, senior vice president for faculty affairs, said that adjunct faculty frequently only teach one class per term, allowing them to work in a professional setting and share their knowledge with students at the same time.
"True to our Catholic, Jesuit identity, Marquette strives to provide the richest pedagogical experience for students each and every semester. Much of the time, that means utilizing our superb full-time faculty," Meyer said in an email. "But sometimes, to provide the types of experiences that are called for in certain programs or to provide unique perspectives, other, faculty, part-time faculty are hired."
Women are less likely to receive tenure than men, according to data from OIRA. While 47 percent of non-tenure-track faculty are women, only 40 percent of tenured or tenure-track are women.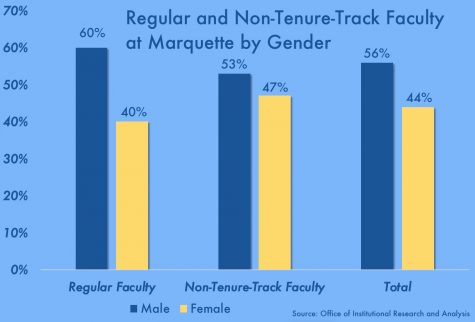 While many departments have a high percentage of adjunct faculty, this is not universally true. In the history department, for example, 19 of 22 faculty are regular faculty. Mullins said that in most of the humanities, most professors are regular faculty.
"I'd like to say that (the high rate of gerneral faculty) is due to our commitment to teaching," Mullins said of the history department. "But I think the larger truth is that the ratio of tenured or tenure-track faculty to students tends to be a lot smaller in humanities departments than in departments that are professional or involved in the natural sciences."
Mullins attributes this largely to the fact that in fields such as business and the sciences, much more money can be made in the private sector than in education. Because of this, he said, universities have to pay much higher salaries to professors in these fields.
Meyer said that in many situations, adjunct faculty can have the best of both teaching and working in the private sector.
"These professionals, in applied fields, often work in state-of-the-art facilities with real-world clients. Bringing these individuals to campus (e.g., hiring them as part-time instructors) greatly adds to the student experience where application of theory is clearly evidenced in practice," Meyer said in an email.
Maguire is one of a small number of faculty advocating for an adjunct professor's union. He said a union would allow adjunct professors to have a voice with Marquette's administration.
"Wherever there is a union, suddenly the adjuncts have a voice," Maguire said. "That voice should be used to return to the original system where the vast majority of professors are on tenure track or tenured."
Several Catholic universities, such as Duquesne University and Seattle University, have historically opposed the formation of adjunct faculty unions, citing the belief that unions restrict their constitutional rights to religious freedom.
However, both Fordham University and Georgetown University already have adjunct unions. In addition, the chairman of the United States Conference of Catholic Bishops publicly acknowledged his support for unionization to the Archbishop of Milwaukee in 2011.