FLOOR SLAPS: Perimeter offense propels Marquette to 9-3 non-conference finish
Hang on for a minute...we're trying to find some more stories you might like.
Marquette lived and died by the 3-point shot throughout its non-conference slate, attempting 29 3-pointers per game entering play Thursday.
Its non-conference finale was no different, as 14 3-pointers fueled a 92-51 win over American Thursday night. Here are the Floor Slaps from the Golden Eagles' final game before the BIG EAST conference kicks off next week.

BALL MOVEMENT ALLOWS HAUSER TO SHINE
Sam Hauser scored a seemingly insurmountable 30 points earlier in the year against Eastern Illinois.
Hauser flirted with that record Thursday, scoring 29 points on a career-best seven 3-pointers. Hauser has now scored at least 15 points in six of Marquette's last eight contests.
Quick, efficient ball handling helped Hauser's 3-point shooting. Marquette's 23 assists are the most the Golden Eagles have recorded this season.
"His teammates did a terrific job of finding him when he was open," head coach Steve Wojciechowski said. "And Sam did a great job of finding openings in their defense."
Hauser and teammates Markus Howard and Andrew Rowsey each had 10-plus points in eight of the team's 12 non-conference contests.
BIG DIFFERENCE BY BIG MEN
Productive nights from big men Matt Heldt, Theo John and Harry Froling gave Marquette an authoritative 28-18 edge in points in the paint.
Marquette out-rebounded American, 36-20, and grabbed 21 of the first 28 rebounds.
John's six points was one short of a career high. Heldt had his third-highest scoring output at home this season with four points. Froling had nine after a scoreless Marquette debut Monday.
Post presence has not typically been Marquette's specialty this season. The Golden Eagles entered play slotted ninth in the BIG EAST in rebounding margin and last in defensive rebounds.
TURNOVERS GALORE
Marquette finished the first half with a 16-point lead but didn't have the most fundamentally sound path to get there. Both teams combined for 16 turnovers in the first 13 minutes.
"Our guys were not patient on offense in the first half and trying to force things that weren't necessarily there," Wojo said. "I thought we missed a lot of kicks in the first half. We didn't move the defense before we attacked it."
Marquette took better care of the basketball in the second half, committing just three turnovers. Wojo attributed it to "a nice, meaningful discussion at halftime."
American's offense did not make that transition. Eight second-half turnovers along with 21 percent shooting limited the Eagles to 21 points after intermission.
The Golden Eagles have been in the middle of the pack this season in the turnover battle, entering play with a plus-1.9 turnover differential. Marquette's nine first half turnovers nearly equaled the giveaway output for the entire game against Northern Illinois (11).
QUOTE OF THE NIGHT
"Obviously these games right before Christmas, guys can start thinking about candy canes and Christmas trees when they should be thinking about defense and sharing the ball on the offensive end," Wojo said.

STAT OF THE NIGHT
Marquette is 7-1 when Howard, Rowsey and Hauser all score in double digits, compared to 2-2 when at least one player does not score 10 points.
NEXT UP
The Golden Eagles will have a six-day break before hosting No. 9 Xavier for its BIG EAST lid-lifter. KenPom, a prominent college basketball analytics site, gives the Golden Eagles a 42 percent chance of winning.

About the Writer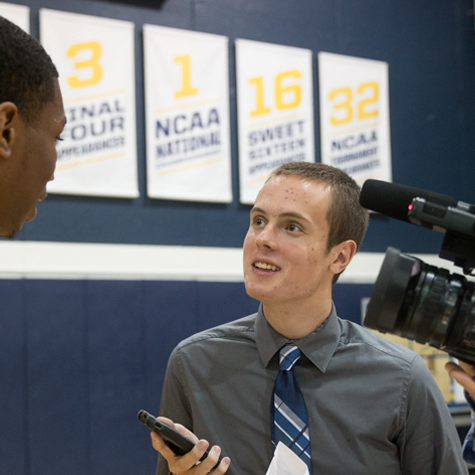 John Steppe, Executive Sports Editor
John Steppe is the executive sports editor for the Marquette Wire. He is a junior majoring in journalism and double-minoring in digital media and Spanish....