Schlundt adds family touch to Marquette-Wisconsin rivalry
When Marquette travels to the University of Wisconsin-Madison Saturday, former NBA player Terrell Schlundt will have a dilemma deciding whether to cheer for his alma mater or his son's team.
Schlundt, a four-year starter for Marquette from 1979-'83, has a son, T.J., a redshirt junior with the Badgers. The Schlundts have similar builds; Terrell was a 6-foot-7 forward and T.J. is a 6-foot-5 guard.
T.J. inherited something more important than height from his father: a strong work ethic. "(He taught me) the hardworking characteristic, never putting your foot off the accelerator," T.J. said. "Just keep going 110 percent all the time and never being satisfied."
Terrell sees another quality passed on from father to son: a sweet shot. "I would say that if he's inherited one of (my) traits, it would be the ability to shoot the ball," Terrell said.
Terrell's shooting ability was so impressive that he was selected in the seventh round of the NBA draft by the Dallas Mavericks, which may have actually dissuaded T.J. from choosing Marquette.
"I just kind of wanted to make the decision to make my own path and not follow in my dad's footsteps, per se," T.J. said. "Just create my own path and create my own name."
Hiding an obvious Marquette bias was the hardest part of the process for Terrell. "Deep down inside I would've loved him to have gone to Marquette," Terrell said. "But he made a decision to go his own way which I respected."
When T.J. was younger, his father had Marquette season basketball tickets. Until his sophomore year of high school, both Schlundts attended every Marquette home game.
"He had a passion for the game, as did I," Terrell said. "He would go to the games with his face painted up with the blue and gold … We had a blast."
Going to games was just part of the Schlundts' father-son time. Terrell made sure to spend hours on the practice court with his son, mentoring him every step of the way.
"When he had an interest in playing basketball, I was right there with him hand-in-hand, getting in the gym, coaching him," Terrell said.
Since T.J. started playing for Wisconsin, Terrell has refrained from wearing either Wisconsin or Marquette apparel, instead choosing to wear nondescript black attire.
"That first game was a weird one because I didn't know how I was going to respond," Terrell said. "I would like to see both teams do well, but I have to admit I'm pulling for my son even though my roots go down to the Marquette ranks."
T.J's experiences at Wisconsin bring back fond memories of Terrell's playing days with the then-Marquette Warriors, although the son does have one thing the father doesn't.
"He's got a Final Four ring," Terrell said. "He asked me how many Final Four rings I had at one point along the way, which I had to tell him I didn't have any."
Terrell still has his Marquette season tickets and comes to the BMO Harris Bradley Center all the time, although he awaits the day when he can come back with his son.
"I can certainly see a day not too far in the distant future where we're gonna be going to the Marquette-Wisconsin game and I'll have on my Marquette gear and he'll have on his Wisconsin gear and we'll be going at it head-to-head," Terrell said.
About the Contributor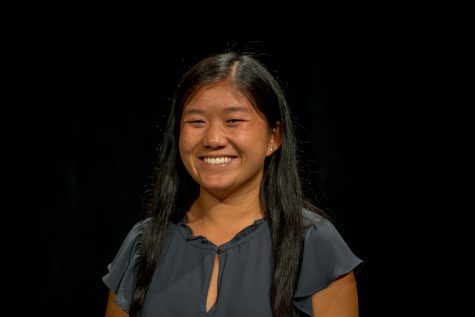 Zoe Comerford, Executive Sports Editor
Zoe Comerford is the Executive Sports Editor for the Marquette Wire. She is a senior from Naperville, Illinois, majoring in Journalism and Digital Media...