Slew of Marquette buildings subject to address change
Seventeen buildings on campus changed their street addresses last week, following a request by the City of Milwaukee.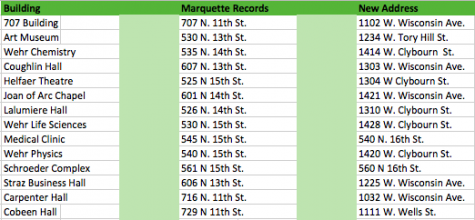 The city requested that Marquette change the addresses to help emergency responders find the buildings as quickly as possible. Eleven academic buildings, two residence halls and campus landmarks such as the Joan of Arc Chapel and the Haggerty Museum of Art were affected by the change. 
Students in Carpenter Tower and Cobeen Hall received an email statement Nov. 17 informing them of the address change. The buildings were listed under 11th Street addresses, but are now located on Wisconsin and Wells Streets, respectively. 
Until recently, Marquette and the City of Milwaukee had an understanding that in an emergency situation, the Marquette University Police Department would help guide emergency responders to the correct location, Mike Jahner, the director of business operations for the university said in an email.
Recently, the City of Milwaukee changed this understanding  to act most effectively in emergency situations, Jahner said. The Department of Facilities Planning and Management worked to ensure that all building addresses complied with city ordinances.
MUPD captain Jeff Kranz said he doesn't see the address change having a significant impact on the police department.
"I don't see (the address change) impacting MUPD response because our staff has such good knowledge of the university buildings to begin with," he said in an email.
However, outside agencies rely on addresses much more than MUPD does, said Scott Mickelsen, the deputy operations director for Bell Ambulance. Bell Ambulance is an emergency responder organization that primarily services Southeast Wisconsin.
Mickelsen said that changing Marquette addresses to be on larger streets aids emergency responders because large streets are often easier to find than smaller streets.
"If it's an address we can use that's a main thoroughfare, that makes it easier for us than trying to find some little tiny street," he said.
Though all Bell ambulances are GPS-equipped, many experienced EMTs know the city of Milwaukee well enough to be able to find buildings without GPS.
"After a certain amount of years of responding in the City of Milwaukee, you just know most addresses like the back of your hand," Mickelsen said. "The streets that run north/south generally are numbered streets, and the streets that run east/west generally are named streets. It sets it up as a pretty easy coordinate system."
The address change will also be an adjustment to delivery partners like USPS, FedEx and UPS. Jahner said they will deliver to both the old and new addresses on campus for a time, but the university is encouraging residents to use the new address moving forward. 
Leave a Comment