BEG: Miley Cyrus must recognize her cultural appropriation
Last month, Miley Cyrus came out with her album," Younger Now." It was accompanied by a music video for the titular song, where Cyrus is in colorful dresses and singing about how she feels like she just woke up from a "dream." Audiences can see the stark difference between this video and her infamous "Wrecking Ball" music video, where she swings nude on a huge wrecking ball. The song talks about how she underwent a change. Now that she's clean from drugs and alcohol, there's a new wholesome image around Cyrus.
She took her audience by shock when she completely changed her Disney star persona and twerked on the MTV stage in 2015. Her songs had also shifted in tone and style. Songs like "We Can't Stop" referenced drugs and partying, a subject that was different from her previous tracks. She was the topic of many discussions and was able to stay relevant through her "rebellious" move. The problem is that during this "rebellious" move, Cyrus used hip-hop and black culture to stay relevant in the entertainment industry.
There is an upward trend of hip-hop and rap songs integrating into pop culture through artists like Kendrick Lamar, Drake, Nicki Minaj and many more. Rap songs top the Billboard and iTunes charts and can now be easily heard on mainstream radio channels. With this observation, Miley Cyrus changed her style to stay popular and at the top of the music charts.
For her song "We Can't Stop," Cyrus told famous songwriting duo Timothy and Theron Thomas, "I want urban, I just want something that just feels black." During this Cyrus era, she wore cornrows, dreadlocks and Jordans, all traditionally symbols of hip-hop culture. She used this image to completely separate herself from "Hannah Montana" and to be seen as an edgy, adult celebrity.
Another problem comes from the fact that after appropriating black culture, Cyrus threw it under the bus with such ease. In her Billboard debut, she said she "can't listen to certain rap music anymore. It was too much Lamborghini, got my Rolex." She completely wants to detach from that image. She criticizes the very thing she used to gain popularity.
She explains her want for separating herself is because of the misogynistic trends in hip-hop music. Even though this is true, artists like Nicki Minaj and Queen Latifah have been exposing this behavior throughout their careers. It is insulting for Miley Cyrus, who used this same type of degradation during her MTV performance, to claim the same and revert back to a "cleaner" image.
This comes from an overarching industry problem where white artists can always rely on their "pure whiteness" as written in the Huffington Post, but black artists cannot do the same. The black culture was basically a shortcut for Cyrus to achieve the type of edgy image and success she wanted. The least Cyrus can do is recognize this problem in the industry and address what she did.
Miley Cyrus does produce some quality songs that can be appreciated. She also actively campaigns and works for people in need, specifically the LGBTQ community, which can be recognized and applauded. In no way is my claim trying to diminish the work she does, but it is something that people should acknowledge and discuss when audiences are praising this new Cyrus as better because she does not have this sense of black culture around her. The fact that she used the culture and left it when she thought it was time for a change degrades and devalues those working hard in the hip hop industry.
Leave a Comment
About the Contributor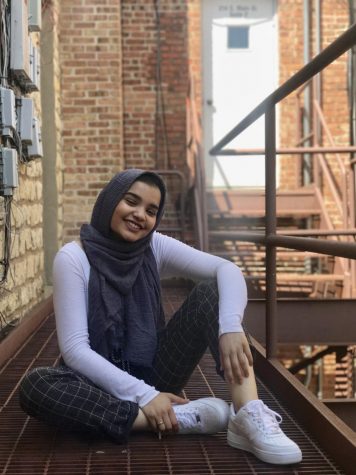 Aminah Beg
Aminah Beg is the assistant opinions editor for the Marquette Wire. She is a sophomore from Naperville, Illinois who is majoring in Public Relations and...