'RENT' sends message of living life with love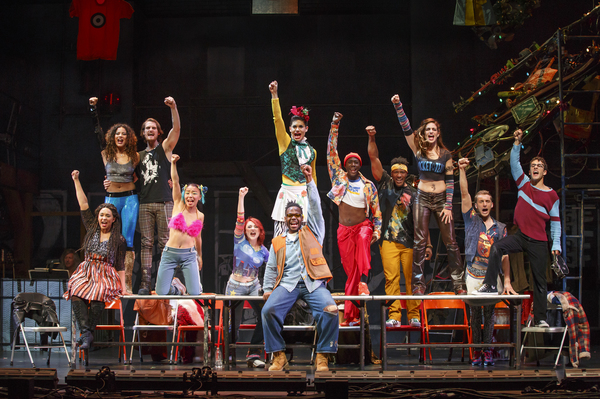 The "RENT" 20th Anniversary Tour has been traveling across the United States for the past year and will be making its Milwaukee stop at the Marcus Center Oct. 3-8. A classic with a timeless message, "RENT" can be enjoyed by musical theater fans and as well as more reluctant theater-goers.
"RENT" tells the story of a group of young artists struggling to make a living and survive in New York's impoverished, drug-ridden East Village during the AIDS crisis in the late 80s and early 90s. Since its Broadway opening in 1996, "RENT" has served as a powerful inspiration to theater-goers everywhere.
Actress Skyler Volpe has played leading lady Mimi Marquez, a young, optimistic club dancer struggling with drug addiction and HIV, for a year. Volpe said that she is excited to take on the challenging role for the second straight year and hopes to continue bringing the moving story to audiences across the country.
"Mimi is a really physical part," Volpe said. "Learning all of the choreography, and learning how to do that choreography, and sing and act at the same time was really tricky and still sometimes trips me up."
To get ready to play an exhausting character like Mimi, in a different city every week requires some mental preparation before going on stage. A task Volpe said she overcomes by having an intense pre-show routine.
"I always do my makeup in the same order, and I always get my hair done in the same order at the same time," Volpe said. "It's kind of like going through the process of physically making myself look like the character is how I get ready to play the character."
Traveling to perform in different cities every week — sometimes multiple cities in a single week — over the past year has brought the cast, crew and creative team together like a family. They bicker and argue at times, but then get over it and work together to put on nightly performances of a show about friendship and love through difficult times. But what makes it even more special for Volpe is that "RENT" is her first Broadway national tour.
"So far, this is unlike anything I've ever done," she said. "It's definitely been the biggest challenge, it's been the most rewarding part I've ever gotten to play … I guess I've never been tasked with this kind of a challenge before, and I feel really grateful for that, to get to tackle it and kind of put my own spin on it."
Although she has been performing since a young age, Volpe did not study acting in school. She has degrees in dance, sociology and French.
"I actually didn't start working professionally until after I graduated from college," she said. "So I graduated, and then I moved to New York, and just hit the ground running and auditioned for everything, and some things stuck."
Many "RENT" fans that are extremely passionate about the music and story inspire her to work hard and dig deeper into her role.
"I hope that the audience feels compelled to go out and live their life full of love," she said. "Because that's ultimately what the show is about."
Leave a Comment