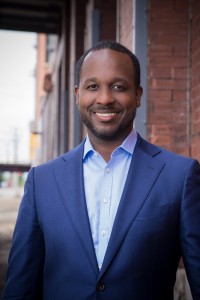 Marquette entrepreneurship professor Elmer Moore wanted to find a way to share Milwaukee's story while incorporating its manufacturing heritage. In 2016, Moore began sharing the story through denim.
Moore is making strides with his clothing and apparel company, Milwaukee Denim Co., founded in 2016. The company rented a space during August 2017 in Clark Square where Moore said they hope to move forward with production.
"If you were going to make apparel that reflected [the heritage], it should be rugged, it should be gritty, it should be common and it should be sophisticated and simple at the same time. I think denim is all of those things," Moore said.
Moore was born and raised on the east coast, where he spent several years moving between school and work before coming to Milwaukee four years ago for a job. What he found surprised him.
"I discovered a city that was so much more than I expected. It was more beautiful, more interesting and it had a great story that excited me," Moore said. "I felt like there was an opportunity to tell the Milwaukee story and to share everything that's exciting about this place with the rest of the world."
Milwaukee Denim Co. began with this idea in mind, but Marquette alumna Courtney Kazalski can attest to the difficulty of translating an idea into something tangible. Kazalski was a social media intern for Milwaukee Denim Co. during the summer of 2016.
"When I started working with Elmer, [the company] wasn't really a thing yet. It was just an idea, which is interesting because it's hard to make something out of nothing. Making social media posts on Instagram, it was interesting to have to think creatively about just an idea," Kazalski said.
Production began with a hat. Moore found a company in Texas to make them, but decided to hold out on creating clothing until he could make them with his own production team in Milwaukee. The space in Clark Square allows him to do that, along with a staff to create a wider range of products.
Jess Goehner has been making things for her whole life and became head of production for Milwaukee Denim Co. two years ago. Goehner and Moore have been friends for two years, and after struggling to find a head of production for him, Goehner took on the role herself.
"Elmer and I are the perfect storm of creativity. He brings a lot of the business side," Goehner said. "We kind of egg each other on but tone each other down when we need to. We come to the table with different things but can see eye to eye on pretty much all of it."
Moore and Goehner are both looking forward to three things: creating quality products, paying people a livable wage and spreading the Milwaukee story.
"I want to be the brand that reps Milwaukee. I want people in Hong Kong to think that Milwaukee is a place where people wear really hip clothes because they've heard of Milwaukee Denim," Moore said.
Moore plans to kickstart production once he and his colleagues validate Milwaukee Denim's "entrepreneurial hypothesis," meaning they need to make sure there is a feasible market for their products.
Milwaukee Denim is currently doing pre-sales for its first piece of clothing, a line of jeans called the Founder Series. Once they have sold 100 pairs, Moore and his team will move forward in buying sewing machines and other supplies for the Clark Square space.