Dugan enjoys transition from soccer to cross country
It was a Tuesday afternoon, a couple weeks before the spring semester ended, and the women's soccer team was running a mile time trial. On this particular day, the soccer team would invade the track while the track team wrapped up one of its practices.(Photo by Marquette Athletics)

Cross country head coach Mike Nelson thought, while his team was getting a rest, he would observe the women's soccer team's mile race. In doing so, he noticed Courtney Dugan, who sprinted out ahead of everyone else.

Nelson recalls being impressed, but still certain that a  soccer athlete would burn out and slow down in the following three laps. However, when she came around on lap two, she was still going strong.
Redshirt sophomore Courtney Dugan barely slowed down by lap three and four and, according to Nelson, ended up winning the time trial by approximately half a lap. Nelson was extremely impressed and eager to find out what her time was.
Nelson then walked over to the athletic trainer, who had a stopwatch, to find out. The trainer said, "She ran 5:08, is that good?" To which Nelson said, "Yes, that's very good!"
That was the start of Courtney Dugan's transition from soccer to cross country.
Dugan, a redshirt sophomore from Glen Ellyn, Illinois, spent her first two years at Marquette as a member of the women's soccer team. She never expected to switch from the sport she had been playing since elementary school to one she had never competed in before.
"I've been playing soccer since I was eight years old, and that's just always the passion that I've had," Dugan said. "My sister played too, so we could always practice together."
Her talent for running did not go unnoticed before this transition. When she was a freshman in high school, her school's cross country coach approached.

"In high school, the cross country coach actually tried to recruit me," Dugan said. "I was playing soccer year-round though, so I just felt like I didn't have the time."
It was not until this past year when Dugan opened up to the possibility of switching sports.
"For soccer, we have a lot of conditioning sessions in the spring," Dugan said. "I found myself loving the fitness and running training sessions the most because I really excelled at them."
Not long after Dugan started to discover her passion for running and fitness, the stars seemed to align for her to follow that passion.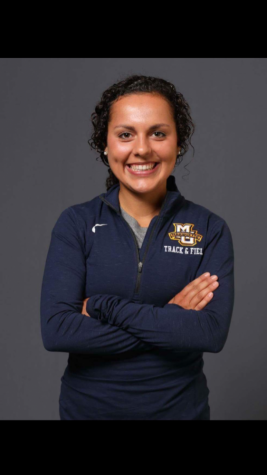 "The fact we ran a timed mile while the track team was watching, and (Nelson) was there to witness it really makes me think that God orchestrated that instance to happen," Dugan said. "It really opened my eyes because this was something I've always been passionate about but I was just never able to pursue it."
Nelson was careful about approaching Dugan. Switching sports as an athlete is a huge decision to make, and Nelson wanted to give her space.

"I didn't want to step on any toes, but I said if she is interested then I would love to have her," Nelson said. "A few days after that timed mile we met, and just like that, here we are."
Dugan said she is 'loving every minute' with her new team, not that she has absolutely no regrets about her time spent with the soccer team.
At Marquette's first meet of the season this past weekend at the Flames/Flyer Challenge in Romeoville, Illinois, Dugan put on a stellar performance. She came in sixth place overall and second place among Marquette runners. It was Dugan's first ever cross country race.
Dugan nearly outran the entire 100-plus entry field and helped Marquette to a third place as a team.

It once seemed unfathomable for Dugan to leave the only sport she's ever known. But based off Saturday's results, it seems like she may have made the right decision.
"I'm so thankful for the past two years I've spent with the soccer team and all the relationships I've built. I wouldn't trade in that time for anything in the world," Dugan said. "Now, I'm just looking forward to building upon the relationships I have already started to establish with my new team."
View Comments (2)