In my mind, Foxygen is a breakup band. Every time I hear "How Can You Really" I think of the way my sad-sack ex texted me non-stop for months after we called it quits, and how the lyric "How can you love someone who can't love you," was probably written about somebody a lot like him.
But my own wry interpretation aside, Foxygen doesn't actually meet the metrics to qualify as a breakup band, despite the many breakup rumors surrounding their so-far torrid career. They don't meet the metrics to distinctly qualify as anything, really. They've been described as new age glam rock, psychedelic, a Talking Heads/David Bowie cover band, classic indie rock and pretentiously nostalgic. But each of these monikers feels limiting. And while I believe in the importance of music writing, words aren't always the best way to convey a feeling.
Eccentric frontman Sam France and eclectic instrumentalist Jonathan Rado know how to convey feelings, and they proved it during Wednesday's show at Milwaukee's Turner Hall. They're fun, they're different and despite many insinuations to the contrary, they're unafraid.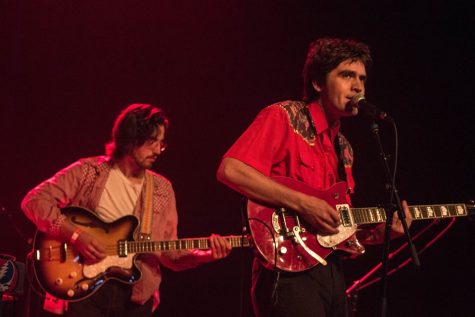 In the past, the pair have expressed dissatisfaction with touring partners, but they seemed genial toward their opener Cut Worms. Compared to Foxygen, Cut Worms was as dialed back as a band can get. They had the standard one keyboard, one drum set, one bass and one electric guitar. Their vibe was like Whitney meets country western watercolor. They were smooth and classic and their singer had a Wayne Coyne thing going on. My favorite song from their set was "It Won't Be Too Long."
When people say they were born to do something, it's usually based on some naive, self-indulgent idea of themselves, but when I say that Sam France was born to be a front man in a rock and roll band, you have to believe that I mean it in the most divine sense. He walked on stage with a David Bowie personality, a Mick Jagger attitude and an Iggy Pop bare chest.
I try not to wonder who musicians are offstage. That's not the persona being offered to me, so it's not a persona I'm entitled to know, but it's hard to not be curious about France. His stage presence is momentous and his hubris makes those sharing the stage look awkward comparatively.
France takes up a lot of space, but not so much as to outshine band co-founder, and my favorite part of the night, Rado. As Almost Famous's William Miller would say, "The guitar sound is incendiary." Rado spent the show switching between keyboard and electric guitar, at some points sitting at the keyboard with the guitar in his lap ready to switch between the two in seconds. His presence was more reserved than that of his bandmate, but his subtle demeanor gave sophistication to his already powerful performance.
There were no onstage meltdowns, as the band has previously been known for, but there was a moment where France stopped the show to have two rowdy audience members escorted to the back of the venue, saying, "It's not a choice, this is my show."
It was a young crowd, but well-behaved for the most part. I guess the lesson is that no matter what show you're at, there will be an underage guy in a bucket hat who introduces himself as "Young Gameboy" and spends the night publicly groping his date. But a fan is a fan, and as difficult as it is to consider I might have something in common with this young delinquent, there's something comforting about it as well. We're all human, or something stupid like that.