ISA captures spirit of friendship
Cultural show draws large crowds for annual performance
When it comes to creating a home away from home, the Indian Student Association of Marquette knows how to make an organization feel like one big family. Every spring, they have an annual cultural show — more like a party — and the whole university is invited.
Kuch Kuch Hota Hai proved to please the packed Weasler Auditorium March 31 and April 1. This year, the show told a story that exemplified how love is friendship in purest form.
The story followed two college best friends reconnecting years later and getting married. Skits were cleverly intertwined with eleven dance team performances to convey certain elements.
The story resonates with ISA's members, who see the organization as more than just a student group.
"Not a lot of us know each other when we start out, but we all become family by the end," Christine Rajana, a junior in the College of Health Sciences and public relations representative for the group, said.
Perhaps the most notable dances at last weekend's show were Carroll Awaaz and Marquette Mazaa. Carroll University partnered with ISA, performing a routing paired with a blend of traditional Indian and modern American music.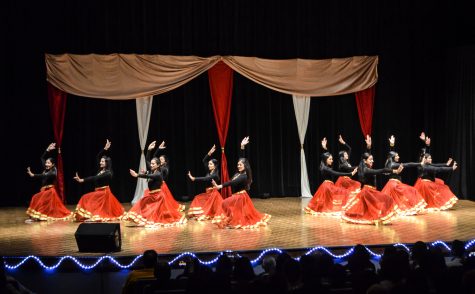 Mazaa's dance number had an intriguing fictional storyline which followed a blind Marquette transfer student who was going to receive an eye transplant. The skit used pre-recorded sound bites being played as the characters in the story danced and lip-synced to the track, which create a unique audio effect.
Deepa Pardiwala, ISA president and junior in the College of Arts & Sciences, joined the group freshman year and has been a part of the executive board ever since.
Membership in the group totals at 143 students, and Pardiwala said the hardest part of getting the show together is communicating with everyone.
The end performance exemplified the familial aspect of ISA. A senior dance party broke out on stage and the upperclassmen were joined by the entire group in the final moments of the show. The audience was loud and enthusiastic from the opening national anthems to the final curtain at the end.
Justin Amakil, ISA treasurer and a junior in the College of Business Administration, said his favorite part of the group is this visible inclusivity.
"Seeing lots of familiar faces is very comforting," Amakil said. "It is a great feeling to feel like you belong because we all come from the same place."
Leave a Comment