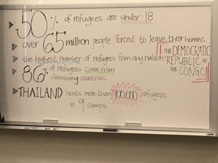 The Center for Peacemaking, the Latin American Student Organization, InterVarsity and the Muslim Student Association came together to host Cookies and Community: A Discussion with Refugees in Marquette Hall.
A group of Milwaukee area refugees participated in a panel to discuss their stories and struggles.
"A migrant goes to a different country for, say, economic reasons," said Zac Wierschem, a junior in the College of Business Administration and a Catholic Relief Services Ambassador. "A refugee goes to a different country to flee conflict."
"Migrant issues are one of (CRA's) main tenets to focus on," Wierschem said.
Anuwar Mohamed Kasim is a refugee originally from Myanmar. In Milwaukee, he currently works as a medical interpreter. He described fleeing his home in dangerous, cramped boats that would often leak. Being displaced from your home is terrifying, Kasim said, but that is only the beginning for most refugees.
"My first intention was just to save my life," he said. Kasim was the eldest of 11 siblings and he remembered how difficult it was leaving most of them. But he beamed with joy when he pointed to his brother in the audience.
Kasim described himself as lucky because he speaks English.
"They're illiterate," Kasim said of other refugees. "Learning English is their biggest barrier."
David Sami is from Iraq. There, he worked for the military and helped Iraqis communicate with Americans. When the government found out, he was forced to leave.
"They called me a traitor," Sami said.
He was kidnapped for three days.
Like Kasim, Sami is educated and knows English. He studies information science technology and criminal justice at the University of Wisconsin-Milwaukee. He also works with the City of Milwaukee as a social worker who helps refugees and immigrants who come to the city.
Refugees receive $653 a month for eight months, regardless of the number of people in their family, Sami said.  In that time, they're also required to complete 40 hours of activities to integrate themselves into American culture. This is all while finding time to spend with their families and learn English.
"I can see the struggle," Sami said. "I can see the fear. They tell me they want to go back."
Still, Sami said he was thankful for how things ended up.
"I was lucky enough to survive," he said. "I was lucky enough to come here and be successful."
He said he hopes sharing his story will help those in similar situations and make Americans more educated about refugees.
"I don't have a home anymore," Sami said. "If I didn't have to leave my country to come to (the) United States, I wouldn't."
Both Kasim and Sami are now citizens.
The panelists said they just wanted to share their stories and dismantle some of the harmful stereotypes facing refugees in America.
"We are humans," Sami said. "We are not here to hurt you."