'18 PF target Thomas discusses recruiting interest from Marquette
Hang on for a minute...we're trying to find some more stories you might like.
While Marquette's historic win last month over Villanova stunned almost the entire college basketball landscape, one person who was not surprised was Tartan High School forward Jarvis Thomas.
"I knew they had a good group of guys that could get the job done," Thomas said.
Thomas' voice means much more to Steve Wojciechowski and his staff than the average fan. The 6-foot-8 resident of Orono, Minnesota, is one of Marquette's major recruiting targets for the Class of 2018.
Thomas first emerged as a Marquette target in October, when he was one of five recruits to make an unofficial visit for Marquette Madness. Thomas received an offer from Marquette that weekend.
"Coach Stan recruited me and Wojo offered me," Thomas explained. "Both are really great coaches leading a great program."
Per Thomas, Marquette has three goals for him if he chooses Marquette: "coaching me to be successful on and off the court, winning the NCAA Tournament and preparing me for the next level."
While Thomas is not yet ranked on 247Sports, he has spurred plenty of interest from high-majors.
"Out of my offers, everyone shows a good amount of recruitment, but the two that exceed the rest are definitely Marquette and Arizona State," Thomas said. "Besides my offers, Madison has been showing lots of interest along with Cal, Cincinnati, Texas, Clemson and Oregon."
Having seen Marquette firsthand at Madness and more recently the Marquette-DePaul game, Thomas holds the program in high regards.
"It's great," Thomas said. "They've got some good players."
Orono's leading scorer does not have any visits set in stone, but hopes to visit Arizona State in the near future.
Thomas expects to make a decision in the fall or winter of 2017. Marquette has also recruited AAU teammate Race Thompson, but Thomas does not expect Thompson's recruitment to have much of an impact on his decision.
Thomas is one of about a dozen 2018 recruits currently considering an offer from Marquette.

About the Writer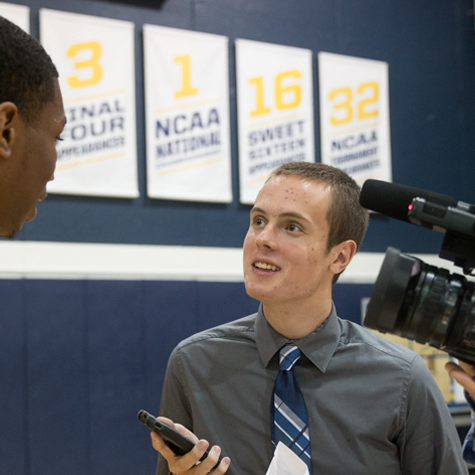 John Steppe, Executive Sports Editor
John Steppe is the executive sports editor for the Marquette Wire. He is a junior majoring in journalism and double-minoring in digital media and Spanish....