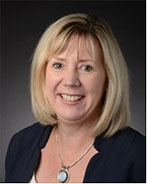 The university recently announced Jenny Watson as the new vice provost for academic planning. She is replacing Marya Leatherwood, who announced her retirement earlier this semester.
She will be working with faculty and staff across campus to help in academic and strategic planning to help campus move forward and achieve its short and long term goals. Watson will be in charge of evaluating all academic and academic support programs.
Watson said she will be working closely with Beyond Boundaries, the university's plan to increase grants, corporate partnerships, diversity and improve campus facilities. She said she is excited about the plan as a whole, and noted that diversity and inclusion is great and the academic excellence portion as "inspiring."
"I like the student-teacher model and I really like the idea of leadership in service. We have a student body that is interested in education and in becoming well-rounded people," she said.
Watson said this is her most prestigious role to date and that the institution's reputation supports this. She said her role at Marquette is somewhat different from her jobs at Oshkosh, where she worked more with student retention and personnel issues. At Marquette, her role is more intensive on academic planning.
Provost Dan Myers said the university conducted a national search for the vice provost position and that there were many other candidates.
"Dr. Watson is an accomplished faculty member and administrator in higher education," Myers said in an email. "She has marked experience with a variety of academic planning processes and is eager to dive into Marquette's academic planning."
Watson spent 17 years at the University of Wisconsin-Milwaukee and two at the University of Wisconsin-Oshkosh. At UWM, she worked as a faculty member in German and Scandinavian studies, the chair of the foreign language department and the associate dean of humanities. She worked as the associate vice chancellor of faculty and academic staff affairs at UWO.
Myers said in particular, Watson will work with colleges and departments to develop, integrate and monitor progress on plans. He also said Watson will run the program review process, which evaluates all academic and academic support programs.
Lane Earns, provost of University Wisconsin-Oshkosh, said in an email Watson brought "great energy and passion" for learning during her time at the university.
Earns said Watson was deeply involved in international education and study abroad. She also was involved in grants development and undergraduate research as well as serving as the co-chair of Oshkosh's Student Success Collaborative.
Earns also mentioned that Watson made "significant" contributions to campus work, particularly in strategic planning and re-accreditation efforts.
"I am confident that Dr. Watson will be able to transfer her many strong leadership skills to her new duties at Marquette," Earns said. "We thank her for her contributions at UW-Oshkosh and wish her well as she goes forward."