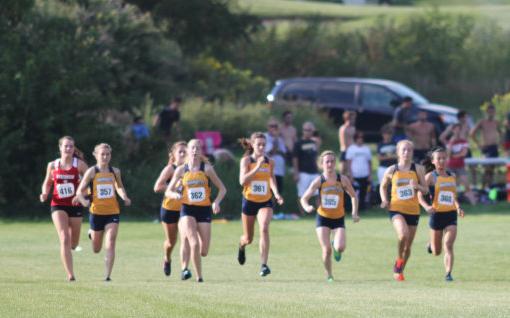 It was a dream start to the season for the Marquette cross country teams, as both the men and women won the team titles at the Midwest Open in Kenosha on Saturday.
Junior Alec Miller won the 8 kilometer race with a time of 25:42. Freshman Daniel Pederson finished 8th with a time of 25:58. Junior Aric Miller, who missed all of last season due to injury, finished right behind Pederson with a time of 26:00. A trio of Marquette runners finished out the day with Jon Klaiber taking 11th, Ryan Burd in 12th, and Brad Eagan in 13th.
Coach Mike Nelson was proud of the way the team ran and thought it was a confidence boost heading into next weekend's race at Notre Dame.
"I think it was a great starting point for our team, both men's and women's," Nelson said. "If we can build from there, I think we will be in really good shape."
Alec Miller, who placed in every race for Marquette last season, thought the freshmen ran well.
"We had some unexpected guys in the top five," Miller said. "Daniel ran great and executed a great race. He's used to the hilly courses and he stepped up big for us. Hopefully our other guys continue improving and can hang up with me and the front pack. I think there's a lot of potential on this team."
On the women's side, it was 1-2-3 for the Golden Eagles as redshirt senior Kellie Greenwood finished first with a time of 17:46, followed by Brittany Feivor at 17:51 and Jennifer Parker at 18:08. Rounding out the Marquette top five were Abagail Busse, who finished 11th with a time of 18:58, and Meghan Carroll, who finished 12th in a time of 19:05.
Greenwood noted that the veteran experience has been crucial following the successful spring they had, winning the BIG EAST title. The chemistry has only improved from there.
"Everyone went out and really used each other as a team, and it really stood out that our mindset is so team-based," Greenwood said. "It is so much so that when we are running, it's like I'm looking for Brittany and Jennifer and seeing where they are, wanting to push with them, and I know that there is a good pack right behind us of Marquette runners that are doing the same thing."
The Golden Eagles will travel to South Bend to square off at the National Catholic Championships on Friday.