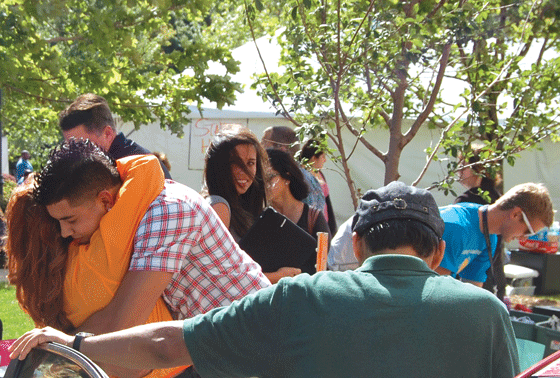 Success: it's a buzzword. It's crucial. As college students, it's constantly on our minds. It seems that, after four or so years of being in the safe little blanket of higher education, relatively protected from the harsh winds of reality, you will suddenly be defined one of two ways — successful or unsuccessful. Will you climb your way to the top, or slowly sink?
Perhaps this is melodramatic, but it is a common experience to feel pressure as a student. And like it or not, a lot of that pressure often comes from parents. They might seem far away, but they're still around, and they're influential. The role of parents in a student's life can have a substantial impact on his or her motivation to be successful.
When can someone say for certain that he or she is successful? It's such a subjective concept, open to each individual's interpretations. Often, it's equated to high income, but this isn't always a fair or accurate translation. For most of us, success is a decent wage and relative satisfaction in life.
Whether we realize it or not, our definitions of success can come from our experiences growing up. And going further, the levels of comfort and economic stability our parents provided us as children may dictate what we strive for in our own careers.
There's a couple of ways this manifests itself. First, students might hope to be equally as successful as their parents, perhaps to replicate that level of childhood security. Or they may wish to surpass their parents' success, motivated by the chance to build a better future for themselves.
Twenty-two percent of Marquette's first-year class in 2015 consisted of first generation college students. That's over 400 people who were brave and driven enough to pursue an entirely different path to success than their parents and 400 sets of parents who supported that decision.
For many, parent involvement may be even more straightforward. Surveys from Campus Experience for Students and Parents found that 79 percent of parents check in with students throughout the week, and interestingly enough, students who receive parental advice tend to have a higher GPA than those who don't.
It makes sense — parents demand a lot from their investment, especially if they've covered a large chunk of tuition. A Chicago Tribune article noted how often parents essentially make the choices for their students, pushing them toward prestigious (and sometimes expensive) schools. This is not to mention the scrutiny that comes with choosing a major, as parents may be discouraging creative pursuits in favor of those that promise more lucrative careers.
Of course, parents do want the best for their children. All those we would classify as helicopter parents — and even less aggressive (but still concerned) moms and dads — certainly base their actions on fear of a competitive job market and the desire to see their kids living happy and well.
There are countless factors that affect motivation to succeed, but there is no doubt parents play a major role. Whether that role is subtle and rooted in your subconscious or as obvious as a daily text from your mom, it helps shape your expectations and outlook on the future.