Mayoral candidates face off at Law School debate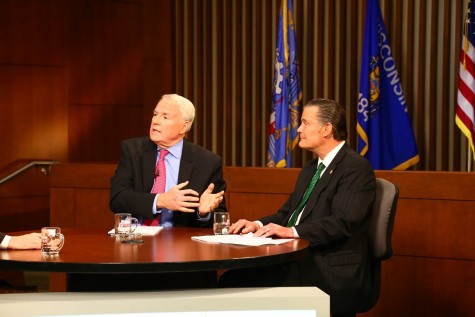 Milwaukee Alderman Bob Donovan (R) and three-term Milwaukee Mayor Tom Barrett (D) faced off at a mayoral debate at the law school on Friday, discussing police presence, job creation and education.
Throughout the debate, Barrett stressed the importance of job creation. He said that by the end of 2015, the employment rate in Milwaukee was the highest since 2001.
Barrett credited the influx of jobs to the construction of the Northwestern Mutual building, the Milwaukee Bucks arena and 1,700 housing units in the pipeline for construction. He said downtown is doing well, but momentum needs to be brought to Milwaukee neighborhoods.
Donovan then took a stab at Barrett by saying crime went up by 99 percent since he became mayor.
"There is more to Milwaukee than just the downtown," he said. "We have seen some horrendous issues going on in our neighborhoods like crime, like unemployment."
Donovan said he plans to hire 250 to 300 more police officers, which will cost around $15 million.
When asked how he plans to fund those officers, Donovan said the money will come from the city's budget. However, he gave no answer when asked if anything will need to be cut from the budget for his plan to happen.
Donovan also stressed the importance of having foot and bicycle officers to improve police-resident relations.
When it comes to education, Donovan said many residents are leaving due to the quality of the Milwaukee Public Schools. He said he advocated for MPS, supporting teachers and addressing discipline.
Barrett agreed that education improvements need to be made and that he's optimistic about programs like Milwaukee Succeeds, which works to improve reading proficiency among elementary school students.
An issue the candidates were not in agreement on was the proposition of creating a Milwaukee streetcar system. Barrett said he's in favor because he thinks it will appeal to young people who want to live in the city. The streetcar's route would include stops at Marquette, the Historic Third Ward, Brady Street, Milwaukee Area Technical College, the Milwaukee School of Engineering and the Wisconsin Center.
"It's an important investment for economic development," Barrett said about the streetcar. "I'm betting on the future of this city."
On the other hand, Donovan said a streetcar is a "foolish waste of money." He mentioned that many other cities with streetcars need to subsidize their costs.
Things became tense when Barrett compared Donovan to Donald Trump, the Republican presidential candidate frontrunner. After a violent youth rampage at the 2011 Wisconsin State Fair, Donovan issued a press release blaming a "deteriorating African American culture" for the incident.
"I disagree with that," Barrett said. "I think it's Donald Trump-esque to blame all those problems on a culture of a race."
Donovan denied making the statement and said, "If I said African American culture, I meant a sub-culture." Several audience members scoffed at that comment, and Donovan tried to reassure them.
"I'm not a racist," he said. "I don't think I could represent a 75 percent minority district if I was a racist."
Leave a Comment