Q&A with women's basketball strength coach Maggie Smith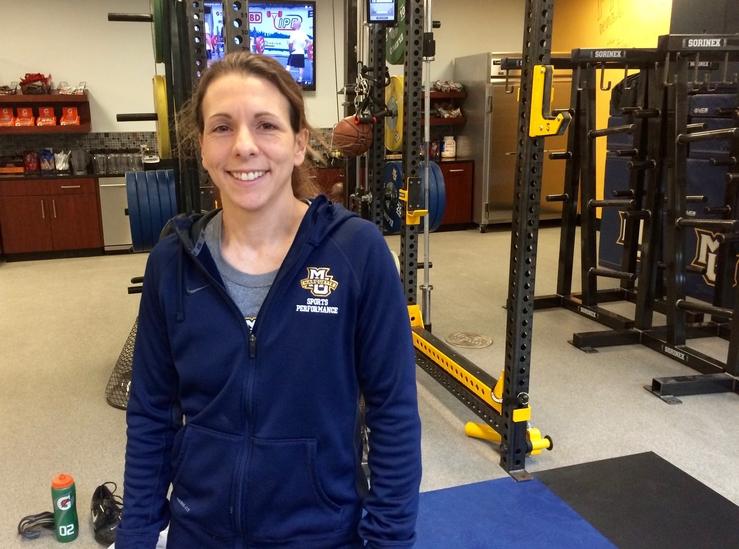 Andrew Goldstein, andrew.goldstein@mu.edu
March 3, 2016
Maggie Smith is in her sixth year as Marquette's assistant director of sports performance. The weight room is her classroom and the women's basketball players are her students. Every athlete on the team has worked with Smith in order to run faster, jump higher and finish stronger at the hoop.
Q: What are the steps you took to get to Marquette? 
A: My first paid job was a graduate assistantship at Syracuse. Even though I was an undergraduate, I also worked with some of the other undergraduate athletes. Then I did a full-time internship with the Olympic Training Center for my graduate program. From there, my first real job after my assistantship would have been at University of Pacific as an assistant there.
Q: You also worked with the (San Francisco) 49ers in training camp. What was that experience like?
A: It was neat to see the level of athlete that these guys are because you don't see that very typically at the collegiate level. But that was training camp, so it wasn't like they were doing a lot of offseason-type work. It was more of a "preservation of your body" training than a "train to get better" type of training.
Q: So when you say they weren't doing a lot of offseason-type work, does that mean the offseason is really your "on" season? What sorts of things do people do in the offseason that they wouldn't do in the season?
A: Yes. In general, just the total loads are incredibly higher (during the offseason). Throughout the year, when something is added you have to take something away … Otherwise, the athletes get over-trained. So our job is to keep them sharp, keep them strong, keep them mentally feeling good, but not necessarily making a ton of gains. 
Q: What is the dynamic of working in the same building and same department as your husband Todd, the director of sports performance for men's basketball?
A: It's good. We don't know any difference now. We had a previous relationship and all of a sudden started working together. That's what we know and we feed off each other and we complement each other well as far as our profession goes. It's good in that we both have an incredible passion for what we do so we can be honest with each other and you don't have to worry about any other issues because we know exactly what the other person is thinking. We can cover for each other's athletes easily because we know exactly what the other person wants.
Q: If Coach Kieger brought you a recruit and you got to put them through one drill, which one would it be and why?
A: Squat. I believe the basic of performance is lower body strength, and that is the king of all lower body strength exercises. Everything is based off strength, whether it be speed or power or however you want to look at it, if you're not a strong person, then you're not going to move very well.
Q: How would you describe this year's team in the weight room?
A: I would describe them as very novice to the weight room. But they have a lot of energy, and I think they're learning to like it. Basketball players are basketball players and they like to play basketball. We understand that, but they're starting to learn the benefits they get here will help them on the court. They're starting to embrace it more than they did when they initially got here.
Q: Who is one player that has impressed you this year and how did she do it? 
A: McKayla (Yentz). Even though she's probably not the most powerful or most athletic person in the weight room – and you can see that when she's lifting – she has bought into the program … She's a veteran and we knew McKayla was like that. She'll do whatever she's asked to do and she does that consistently with all the coaches. To me, that takes a really special person – to be able to give herself up to everybody and trust everybody and do exactly what you're told to do all the time.
Q: What makes you happiest as a weights coach?

A: To see the athletes achieve what they want to achieve because they put the work into it, for them to understand not just in basketball or in the weight room, but to understand that if you commit to something you can be successful at it … In five years, they'll come back with that life skill and it might be with a great job or they got into a medical school or whatever it is, and they were able to take … those skills they learned here and apply it to the rest of their life.