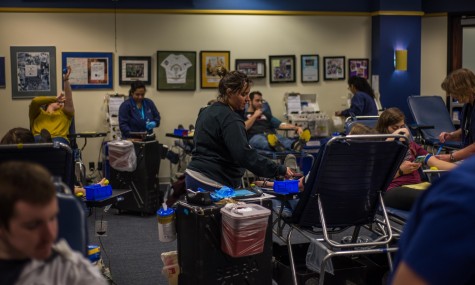 About 200 students donated blood during the first campus-wide blood drive hosted by Marquette Athletics, Residence Hall Association and the BloodCenter of Wisconsin on Feb. 25 and Feb. 26.
"We really wanted to bring in more students and get the word out," said Amy Bennett, a consultant at the BloodCenter of Wisconsin, which is located on campus.
Bennett said other universities attract many students when they offer campus-wide drives, opposed to smaller drives sponsored by single organizations.
The BloodCenter partnered with Marquette Athletics at the start of the 2015-'16 basketball season and handed out blood donation information while tabling at home games.
The university previously partnered with campus groups including the Evan Scholars and the physical therapy program for smaller, individual blood drives. The BloodCenter said it partnered with Marquette Athletics this year to improve student involvement. It worked with 15 students from different campus organizations to promote the drive by tabling, talking to students and designing T-shirts.
The group encouraged students interested in donating to register in advance, but walk-in appointments were available on Thursday or Friday.
Fifteen donor service specialists and a couple of volunteers gave donors medical questionnaires, took blood donations and fed donors water and snacks.
Natalie Geoffroy, a junior in the College of Health Sciences and one of the blood donors, said she donates her blood every two months because she likes the opportunity to help save lives.
Daniel Cibich, a senior in the College of Health Sciences, said he has been donating blood since he was in high school.
"Through my studies of health science and realizing how many health instances that need blood donations, being able to give blood means something to me," Cibich said.
According to the BloodCenter of Wisconsin's website, a donor must be at least 17 years old, 110 pounds and physically healthy to be eligible to donate blood.
"(The BloodCenter of Wisconsin is) right next door, so we want students to know that they come over and donate blood," Bennett said.
The next blood drives will be March 1 at the Graduate School of Management and March 8 at McCormick Hall.