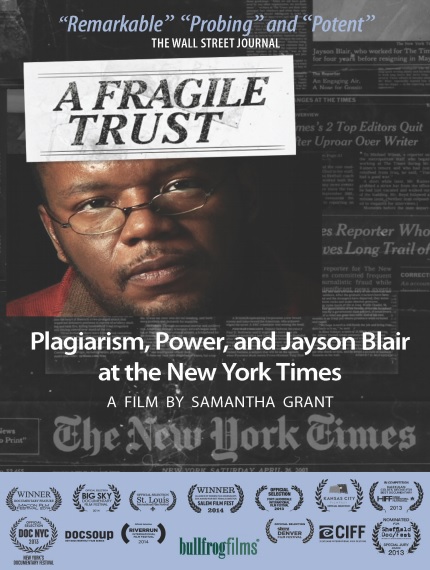 Yale and UC Berkeley alumna Samantha Grant will speak at the Weasler Auditorium Feb. 29 about her documentary "A Fragile Trust." The 75-minute documentary is about the 2003 scandal surrounding Jayson Blair, a reporter caught plagiarizing multiple articles while writing for The New York Times.
The impact of the scandal turned the journalism world on its head, forcing it to take a good hard look at itself. The idea came to Grant when she had to choose a topic for her thesis at UC Berkeley and she realized that no documentaries about the Blair scandal existed. At the time she was taking a class in law ethics and the light bulb went on.
"It was the perfect story," Grant said.
But not everyone thought so. Grant said it took years for many people to get on board with her idea because nobody wanted to talk about the scandal. Fellow classmates helped put the film together, but participation from those involved in the scandal, mostly from Blair himself, took time. After a year of persistence, he agreed to be a part of the documentary.
The topic was controversial because it showed the dark side of journalism. Blair was found guilty of taking advantage of new technology of the early 2000s to consistently plagiarize works from across the country.
"Not everybody was up to speed with the technology," Grant said.
Blair's editors were unaware of the "copy-and-paste" culture arising due to the rapid integration of the computer into the workplace.
The title, "A Fragile Trust" is a term coined by American journalist Macarena Hernandez, one of the first reporters to notice Blair's work looking similar to her own. The title is also a play on words as The New York Times is sometimes referred to as "the public trust."
That trust is important to maintain because, as Grant said, journalism is "important for a functioning democracy."
Although she is an independent journalist, Grant said in her lecture she plans to discuss the importance of large news organizations in finding the truth and defending themselves from large corporations.
"Now, more than ever, we need news gathering institutions," Grant said. "We need large institutions (because) independents journalists can't take on big institutions such as the government, lobbyists, the NRA." 
Grant also created a video game as a companion piece to the documentary. "Decisions on Deadlines" is an online and tablet game in which the user plays as a journalist. The game presents ethical dilemmas relevant to the real world of journalism, such as deciding whether to name a minor in your article or pay sources. Grant said the main goal of the game is to teach people who have not received formal journalism training.
For her upcoming event on campus, Grant will talk about the way the media is perceived after the Blair scandal and what it means for the future of journalism.
Story continues below advertisement