Undocumented students panel discusses challenges, improvements Marquette can make
The same day thousands of people protested what they see as anti-immigration legislation in Madison, Wisconsin for the "Day Without Latinos" rally, around 35 people on campus engaged in a discussion about undocumented students in higher education.
The event, called "The Justice of Borders? At the Nexus of Politics, Philosophy and Practice. 'Undocumented' on Campus: The Experiences of College Students in Milwaukee," included four panelists:
Eva Martinez Powless, director of the Center for Intercultural Engagement
Valeria Gonzalez, a Milwaukee community activist
Miguel Sanchez, a junior in the College of Business Administration and president of Youth Empowered in the Struggle
Luis Jimenez, a sophomore in the College of Engineering and one of the around 30 undocumented students at Marquette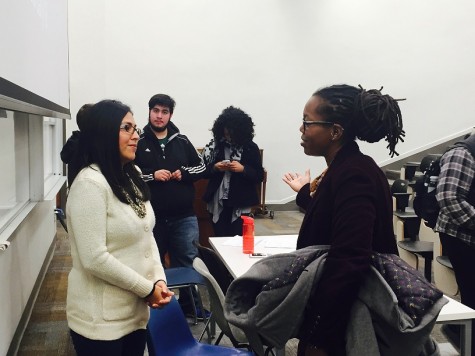 Assistant philosophy professor Grant Silva moderated the panel.
The discussion ranged from the obstacles undocumented students face, the benefits and challenges of the Deferred Action for Childhood Arrivals immigration policy and what Marquette can do to help undocumented students.
Jimenez said obtaining financial aid to pay for school is one of the biggest challenges he faces as an undocumented student.
"There are thousands of students who just don't have the money, who don't have the financial assistance to go to school," Jimenez said.
Gonzalez, a 2014 University of Wisconsin-Milwaukee graduate, is now documented but was undocumented throughout college. She said she sometimes still considers herself undocumented because her status is temporary.
"Every student has their own struggle," Gonzalez said. "One of the biggest challenges for undocumented students is figuring out if it's worth all of the struggle, staying (in college)."
Powless and the CIE provide one-on-one support and group support for undocumented students. The CIE also works on advocacy and retention for undocumented students and provides a biweekly support group called Dreamers Discussion Group.
Powless works directly with undocumented students and said the university can do more to educate families about the education opportunities available to them and to retain undocumented students once they are on campus.
"I would love to see the day when Marquette is more inclusive to undocumented students and parents through the admission process, the retention process, the engagement process, the entire outline of what it takes to be in college and so on," Powless said
Jimenez said he thinks Marquette should inform the student body that there are undocumented students on campus.
"That starts with students like myself to be able to accept that its OK to be an undocumented student," Jimenez said. "We're also students and just to accept the fact that we were put into this situation and being able to relate to everybody on campus."
Sanchez said undocumented students can start speaking up for themselves, but Marquette students should want to know and learn about their lives.
"That responsibility can't fall on students who are directly facing these situations," Sanchez said. "There has to be that real commitment for what this school stands for."
Sanchez also suggested that Marquette provide platforms to open discussion on issues like immigration and topics that impact minority groups on campus. Ways he said the school could do that are through Mission Week, classes or by communicating about it during freshman orientation.
Powless said students can be allies for undocumented students by building relationships with them and being aware of the laws impacting them and their families.
"Once you have developed a relationship, then students will disclose that information to you," Powless said. "Then you can be a better ally by having that information and advocating for that particular student or friend."
Sanchez and YES are working to establish a scholarship for undocumented students. Sanchez said the effort is led mostly by students right now. The first attempt at raising money to establish the fund will be at a gala on March 31.
Raul Sanchez, a junior in the College of Engineering, said he was surprised to see the number of people interested in the panel.
"I was also surprised to see the amount of interest there is toward the scholarships for undocumented students," Sanchez said. "It was touching. I'm not an immigrant. I'm a resident myself, but it's touching to see the interest in this topic."
Rebecca Zellelew, a senior in the College of Arts & Sciences and member of YES, said she supports the panelists for sharing their stories and bringing the issues forward.
"At the end of the day, it's not my struggle they're speaking of, but it is a struggle nonetheless, and as humans, we should support one another when someone is going through a struggle," Zellelew said.
Leave a Comment