Blockton blossoming into BIG EAST star
Freshman guard finds inspiration in late brother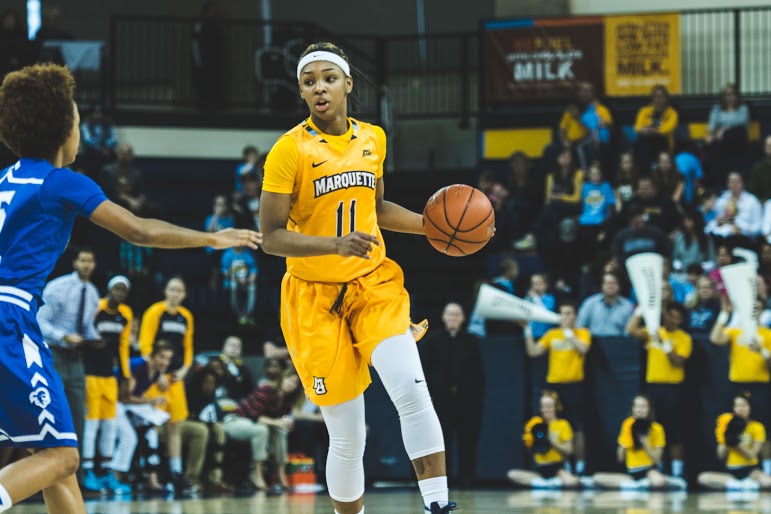 Down by two, six seconds left in the game, inbounding the ball from mid-court, season on the line. Do you want the ball? What would you do if you got it?
Perhaps you don't have a ready-made answer, but freshman shooting guard Allazia Blockton sure does.
"Of course I always want to take the last shot. I'm very confident I could knock it down," Blockton said. "If I couldn't get to the rim – ideally I'd like to get to the rim for the and-one – I'd go to my pull-up jumper. If the other team is putting two (defenders) on me, I'd try to kick it out to whoever's open. I trust my teammates to knock down the shot."
All of those options are very much on the table for Blockton, who is quickly becoming one of the BIG EAST's best players. She draws fouls so well that she leads the conference in free throw attempts. Her offensive repertoire is so expansive that she is shooting 46 percent from the field. And her passing is good enough that her coach trusts her to bring the ball up the floor at any time.
"She's so well-rounded that she's capable with the ball in her hands and she feels comfortable from any spot," head coach Carolyn Kieger said.
Blockton has proved her coach right with her performance this season, which has been nothing short of tremendous. She averages a shade under 19 points per game and pulls down over seven rebounds per game. The BIG EAST Conference has awarded her a commendation — either Freshman of the Week or Honor Roll — every week since the season began.
You would never guess what kind of a player she is by talking to her. She speaks not with the self-assuredness of a marquee player, but with the eagerness of a 10th woman trying to get minutes.
"Now I'm on the radar and people are starting to realize what type of player I am, so that's just motivation to work even harder and become better," Blockton said.
Work ethic has been one of the major catalysts for Blockton's success this season, but that did not develop overnight. Blockton recalls not being able to persevere through fatigue at the beginning of her college career.
"When you first come in from high school, you don't really know how to push yourself," she said. "When you get tired, you're like 'Oh, I'm tired, I want to stop.' As the season has progressed, I've learned how to push myself more so that when I'm tired, I do have an extra level and I can keep going."
That determination won over Kieger, who touts Blockton's work ethic as the attribute that she has improved on the most. Kieger also said she's noticed positive changes in other areas of her star guard's game, like her help defense, which was a struggle early in the season.
"I think in help-side (defense) … she's now understanding one pass away and where to be, versus just when the situation occurs," Kieger said. "She's seeing it in advance, which is the whole thing about help side. You need to be one pass ahead of the (opposing) offense, and she's definitely getting there."
The improvements in Blockton's game also rub off on the rest of the team. Fellow freshman guard Amani Wilborn, who played with Blockton in AAU, says their on-court chemistry has grown since coming to college. Wilborn attributes this to the vastly increased level of competition in Division I basketball.
"In high school it was sometimes a little easier, so (our chemistry) didn't have to be as good as it is now," Wilborn said. "Now we have to be successful with each other to play better."
There is more to life than just basketball for Blockton, who is as industrious in the classroom as she is in the weight room. She majors in biomedical sciences and wants to study the human brain, which is a decision she made after suffering a loss far greater than any basketball game.
"My brother died of brain cancer when he was seven and I was nine," Blockton said. "Ever since then, I've always wanted to go into the medical field and do something with brain research. Maybe become a neurosurgeon and try to find a cure to cancer."
Therein lies one of the major reasons for her seemingly limitless diligence. If it seems like Blockton works hard enough or dreams big enough for two people, it's because that's exactly what she feels she has to do.
"I feel like I'm living not only for me but for him too," Blockton said. "I've always wanted to make him proud because I know he's watching over me and he's with me every step of the way."
Recently, yet another person entered Blockton's life: her baby sister Azari, who is four months old. The life of a DI athlete does not include an excess of free time, but Blockton hangs out with her sister every chance she gets.
"She just started smiling recently. I'm hoping she'll be a little me when she grows up. I'm kind of raising her to be just like me" Blockton said, flashing a wide grin.
A menace on the court, an aspiring surgeon in the classroom and a devoted older sister at home. Allazia Blockton leads three lives, all of them requiring attentiveness, persistence and a clear vision. Based on what Marquette fans have seen of her, none of those traits are lacking in the slightest.