Goldstein: Women's basketball exceeding expectations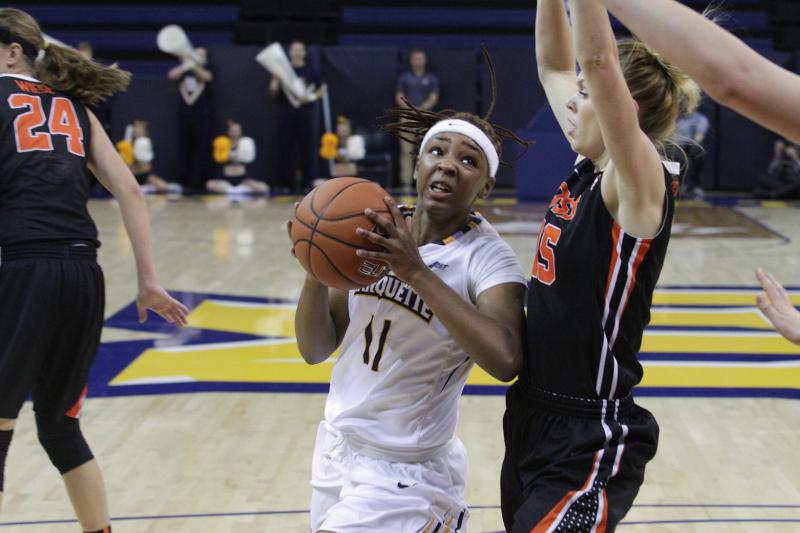 Andrew Goldstein, andrew.goldstein@marquette.edu
January 28, 2016
Marquette women's basketball might be good.
You may not know it looking at their record (9-11, 4-5 BIG EAST), but Marquette women's basketball is having its most relevant season since 2010-2011, when they made the NCAA tournament. The Golden Eagles have already matched both their conference and overall win total from last season. It is possible they will finish the season above .500.
That may not sound very exciting, but it becomes far more impressive when considering the context. The 2014-2015 season under first-year head coach Carolyn Kieger was Marquette's worst in 29 years. Marquette finished in the bottom five in the country in scoring defense. A home court victory over an equally uninspiring Georgetown team was all that kept the Golden Eagles from tying a program record for most consecutive losses.
That is why the Golden Eagles' current standing is such a surprise. Some may call it a minor miracle, but anyone who watched this team mature this season knows better. This team is not particularly lucky, nor have they benefited from a weak schedule. They are, quite simply, a competent basketball team. Maybe even a good basketball team.
Good or not, one thing is for certain: This team is currently the best entertainment Marquette has to offer. Any fan tired of the men's team shooting questionable three-pointers every game should watch the women. They average just shy of 78 points per game, 16th in the country, on the strength of their relentless fast breaks and graceful ball movement. They're also shooting a respectable 34.4 percent on threes.
Another reason to watch the women's team? They may have the most exciting basketball player at Marquette. Her name is Allazia Blockton, and she is a menace. The freshman from Dominican High School in Whitefish Bay averages 19 points and nearly eight rebounds per game. Not impressed? She's shooting nearly 46 percent from the field, unheard of for a perimeter player who averages over 15 shots per game.
Of course, there are things that need to be fixed. The defense is among the worst in the country, giving up 77.6 points per game. Marquette also only plays a seven-woman rotation, so fatigue and fouls are definitely issues. Their turnover count, 15.5 per game, is a bit high for anyone's liking.
With these flaws, no one would give you flack for saying it's too early to use the g-word. Positive results in tough games against St. John's and Seton Hall this weekend may push them even further. Still, if you want to see free-flowing, high-paced basketball, it may behoove you to give the women a watch.