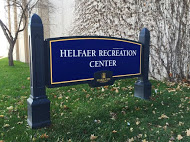 The Department of Recreational Sports will change group fitness options next semester for students who purchase a Fit Pass.
The department is specifically modifying its high intensity interval training, Bollywood Bhangra and Barre classes to keep up with current fitness trends.
HIIT classes will be offered more frequently and in 30-minute sessions to maximize exercise benefits. The department also hopes to boost the popularity of the  Bollywood Bhangra and Barre classes.
The group fitness office sold 254 Fit Passes this semester. The pass gives students complete access to the 40 classes that are held each week in both the Helfaer Recreation Center and Rec Plex. Each pass costs $50 and students can purchase a pass at any time during the semester.
"If you were going to a yoga class on the east side, the class alone would be $50," said Shannon Bustillos, Rec Plex assistant director, about the pass' price. The cost drops to $25 after the sixth week of the semester.
"I definitely think (the Fit Pass) is a good deal if you go at least a couple times a week," said Sarah Fox, a junior in the College of Nursing. "I love going to the classes because I always get a better workout with a teacher telling me what to do and challenging me rather than when I just go to the gym on my own."
The Department of Recreational Sports offers 18 types of classes that range from cardio dance to yoga. Zumba and spinning are among the most popular classes.
"This is my second semester buying a Fit Pass and I only use it for spin classes," said Regan Briesacher, a junior in the College of Nursing.
Briesacher said she uses the pass two to three times a week and the classes are useful for her workout routine.
A staff of 33 student instructors teaches the group fitness classes. The Department of Recreational Sports requires a certification for yoga, Pilates and spin instructors. Bustillos said some of the instructors have a following, or a regular group of students who continuously attend their classes.
One or two students on the group fitness staff are not certified in their respective area of fitness, Bustillos said. The Department of Recreational Sports requires those students to complete training that includes shadowing another instructor and teaching a demo class.
Natalie Lah, a senior in the College of Communication, has taught hip-hop for three semesters.
"I enjoy sharing my knowledge about dance with people and get a good workout out of it," she said.
Lah said she has a few regular attendees at her classes and met her current roommate and friend through her classes.
"Group fitness is something fun to do with friends," Bustillos said. "Having that group atmosphere motivates students to show up and be there."
The Department of Recreational Sports offers "Fit 4 Finals," a week of free classes Dec. 14 to Dec. 17. The schedule differs from weekly group fitness, but the classes are the same.​