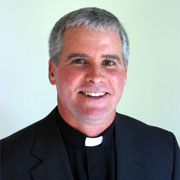 After most Masses at the Church of the Gesu, the Rev. Jim Flaherty can be found making conversation and shaking hands with parishioners.
Appointed pastor of Gesu on Oct. 11, Flaherty said he's been trying to get to know parishioners by taking time to say hello.
"It takes time," Flaherty said. "It is not your typical neighborhood parish, but it is a great parish with great tradition committed to service and introducing people to Ignation spirituality."
Flaherty, formerly an associate pastor at Gesu, was chosen by Milwaukee Archbishop Jerome Listecki to succeed the Rev. John Schlegel, who died from inoperable pancreatic cancer Nov. 15.
Story continues below advertisement
Gesu Parish Administrator John O'Brien said there wasn't time for a transitional period to decide who the next pastor would be. The previous search that ended in Schlegel's appointment lasted for months and included input from parishioners.
Since Flaherty's appointment, he's built on Schlegel's work and promoted justice and Ignation spirituality. He said he doesn't think there's a difference in essence between his and Schlegel's work.
"We are both Jesuits that love pastoral ministry," Flaherty said. "(Schlegel) and I were both keen on promoting Jesuit character and the identity of the parish. It is the mission of the parish that really guides us."
In addition to learning about his parishioners, Flaherty is giving presentations and preparing for morning reflections during Advent.
O'Brien said he notices and respects Flaherty's pastoral background, perspective, presence and commitment so far during his time as pastor.
"Usually, the current or incoming person works with the incumbent," O'Brien said. "That is something (Flaherty) has had to handle on his own. He had to go with the situation as it was presented to him, and I think that he has done very well with it."
When news of Schlegel's diagnosis became public in February, Flaherty said he talked with the Rev. Thomas Lawler, provincial superior of the Wisconsin Province of the Society of Jesus, about being the next Gesu pastor. He became an assistant Gesu pastor at the beginning of August.
Flaherty's duties as pastor include collaborating with Campus Ministry and strengthening the church's mission. He was an assistant philosophy professor at Marquette for 12 years prior to his pastorship. He said he's been worked in parishes since 1982.
Flaherty said he has strong hopes for the parish's future. He wants to continue the work of Jesus in Milwaukee and work alongside Marquette.
"I am very pleased and humbled to serve the role of pastor," Flaherty said. "The best advice I have received in pastoral leadership is that the people teach you how to be a priest. I am confident here that people will teach me how to be a pastor."